Political environment is 'extreme,' 'uncertain': Ko
Taipei Mayor Ko Wen-je (柯文哲) on Monday expressed concern over the state of politics in Taiwan, calling the nation's political environment "extreme" and "full of uncertainties" at a meeting with Taiwanese reporters during his visit to Israel.
Asked about a speech he is to make during a planned visit to the US next month, Ko said that he had not finalized it, but alluded to its content by saying that "democracy and freedom are Taiwan's core values."
Ko said that an Israeli lawmaker told him that Israel and Taiwan share common values, as the two are among a handful of nations that have implemented a full democracy.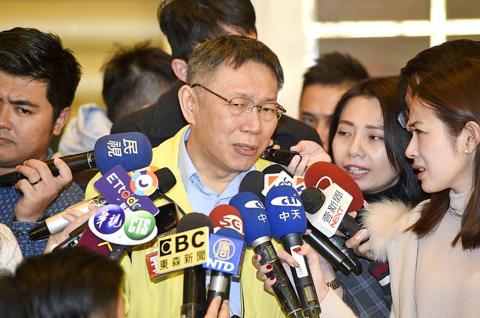 Taipei Mayor Ko Wen-je talks to reporters in an undated photograph.
Photo: Chen Yu-fu, Taipei Times
Visiting other nations and exchanging ideas has allowed him to understand the strengths and value of Taiwan in the global society, Ko said.
Asked about Minister of National Defense Yen De-fa's (嚴德發) criticism of a remark Ko made on Sunday that Taiwan's education is not integrated with national defense and private industry, the mayor said that he stands behind his opinion that Taiwan could learn a lot from Israel, which has successfully integrated such concepts and has made great strides in cybersecurity.
His opinion was not intended as a slight against Taiwan, he said.
Asked about a survey showing that Kaohsiung Mayor Han Kuo-yu (韓國瑜) would be a popular choice for president if he runs in next year's election, Ko said that opinion polls only reflect current opinions and that things could change drastically in 10 months.
Before the mayoral elections in November last year, Ko said that Han's online popularity rapidly rose above his own in about 50 days, overturning expectations, so he thinks that the nation's politics are changing to become more "extreme."
Taiwanese public opinion is like a tsunami in an extreme climate, he said.
Opinion polls are only for reference, Ko said, adding that he would continue to carry out his duties.
It is pitiful that there is so much speculation about the presidential election when there are still 11 months to go before the poll, he said.
Comments will be moderated. Keep comments relevant to the article. Remarks containing abusive and obscene language, personal attacks of any kind or promotion will be removed and the user banned. Final decision will be at the discretion of the Taipei Times.