Report details military acquisition plans
PRIORITIES: Defense planning and arms acquisition by the military should focus on using innovative and asymmetric methods, the Executive Yuan Policy Report said
The acquisition of new main battle tanks, next-generation guided missile frigates and armed uncrewed aerial vehicles (UAV) are top budget priorities for the military this year, according to the latest Executive Yuan Policy Report published on Jan. 31.
The Cabinet submits an Executive Yuan Policy Report at the start of each new legislative session, with a new one scheduled to begin on Friday.
Strong defense and multiple-layered deterrence, force protection, winning the decisive battle for the littoral seas, and annihilating the enemy on the beachhead remain the key doctrines, the report said.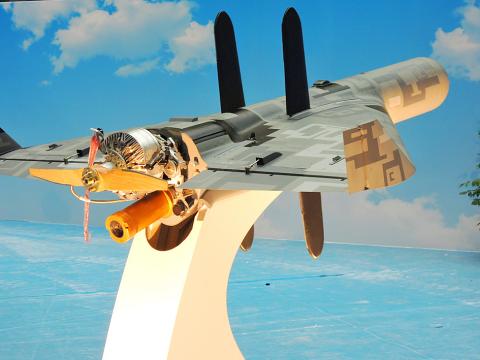 An anti-radiation armed uncrewed aerial vehicle developed by the Chungshan Institute of Science and Technology is pictured in an undated photograph.
Photo: Lo Tien-pin, Taipei Times
Under those concepts, defense planning and arms acquisition by the military should focus on using innovative and asymmetric methods, achieving local superiority and building a dependable combat force, it said.
Aside from the acquisition of main weapons, the procurement and fielding of weapon systems stemming from the push last year to rapidly improve the military's combat power — including new infantry fighting vehicles, heavy long-range submarine-launched torpedoes and F-16A/B upgrades — should continue, it said.
Furthermore, the advanced trainer jet program — a critical component to building a self-reliant defense sector — has entered the assembly and manufacturing phase, and a prototype is projected to be rolled out by September, it said.
Intelligence gathering and electronic communications capabilities are to be stepped up, so that the military can detect and track Chinese military activities near or around Taiwan's territorial seas, as well as other regional developments, the report said.
To counter changes in technology and adversarial capabilities, the military's cyber and electronic warfare capabilities should be overhauled, it said.
Information technology training and education, security measures, and communications, command and control systems are areas that would be targets for improvement this year, it said.
The military is to enhance training and education to develop information technology expertise, bolster security measures, and boost the capability of communications platforms and command-and-control systems, it added.
It is to replace the fiber-optic cables in its information infrasctructure with satellite equipment, which would augment the security and efficiency of command, control and communications, it said.
The armed UAV would most likely be a new missile-armed variant of the "Tengyun," a heavy reconnaissance drone under development at the Chungshan Institute of Science and Technology, a defense official who requested anonymity separately said on Monday.
Additionally, the anti-radiation drone the institute unveiled last year is to begin trial sometime this year, the official said.
Comments will be moderated. Keep comments relevant to the article. Remarks containing abusive and obscene language, personal attacks of any kind or promotion will be removed and the user banned. Final decision will be at the discretion of the Taipei Times.