Air force to conduct emergency exercise on Highway No. 1
The air force is to conduct an emergency landing and takeoff drill on a section of National Highway No. 1 in May as part of the Han Kuang military exercise, an official said.
It would be the first such drill since President Tsai Ing-wen (蔡英文) took office in May 2016.
It is to take place on a section of the highway in Changhua's Yuanlin (員林), where the Ministry of National Defense previously conducted exercises involving landing, and warplane repair and maintenance.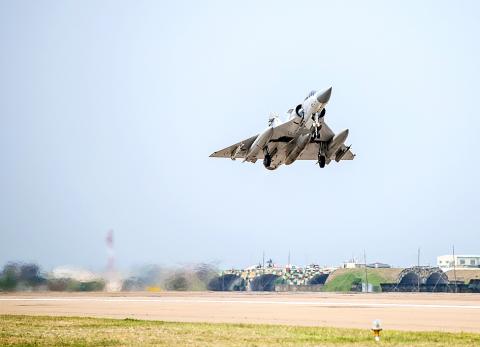 A Mirage 2000 warplane takes off as part of the annual Han Kuang military exercise on June 4 last year.
Photo: Military News Agency via CNA
The drill would involve F-16s, Mirage 2000-5s, Indigenous Defense Fighters and Lockheed C-130 Hercules aircraft, the official said.
Minister of National Defense Yen De-fa (嚴德發) had instructed the military to incorporate more real-world scenarios into exercises before the emergency landing and takeoff drill was reinstated this year, they said.
The Directorate-General of Highways has announced that it would next month put out tender to repair the section of highway in preparation for the Han Kuang military exercise, which is to take place from April to June.
Emergency runways have been designed along parts of the highway to allow landing, takeoff and refueling during wartime in the event of military airfields sustaining damage, the official said.
The first emergency landing and takeoff drill on the highway was conducted the year after the Jhongli (中壢) section was completed, they said.
Similar drills were held on different sections of the highway during the terms of former presidents Lee Teng-hui (李登輝), Chen Shui-bian (陳水扁) and Ma Ying-jeou (馬英九).
Comments will be moderated. Keep comments relevant to the article. Remarks containing abusive and obscene language, personal attacks of any kind or promotion will be removed and the user banned. Final decision will be at the discretion of the Taipei Times.