Online popularity, duties do not mix: Ko
Taipei Mayor Ko Wen-je (柯文哲) yesterday said it is impossible for him to maintain a popular online presence given his duties as mayor, in response to reporters' requests for comment on President Tsai Ing-wen (蔡英文) and Kaohsiung Mayor Han Kuo-yu's (韓國瑜) online popularity.
Ko made the remarks at a Lunar New Year greeting event at Taipei City Council, where he wished city councilors returning to work after the nine-day holiday a happy new year.
Statistics released by the DailyView Online Thermometer, a data research platform, has shown that Tsai and Kuo are more popular online than Ko, despite Ko appearing as a guest on a few YouTube channels over the holiday.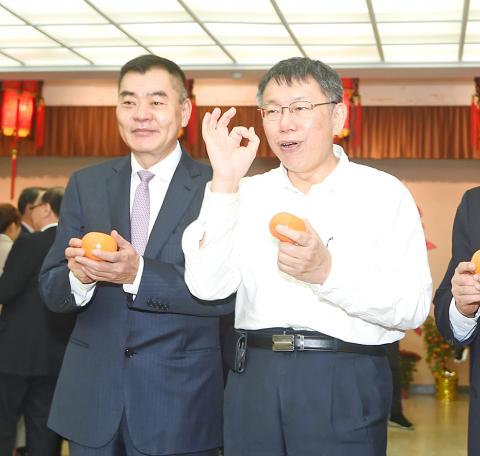 Taipei City Council Speaker Chen Chin-hsiang, left, and Taipei Mayor Ko Wen-je hold tangerines at an event at the Taipei City Council yesterday.
Photo: Fan Pin-chao, Taipei Times
It was speculated that Ko collaborated with YouTubers to boost his popularity, because he is preparing to run in next year's presidential election.
Taipei City Government vice spokesman Ke Yu-an (柯昱安), who also manages Ko's social media accounts, on Saturday wrote on Facebook that the videos were pieces of entertainment intended to be broadcast on TV during the holiday.
The Media Affairs Division had produced videos for previous holidays — such as one showing Ko writing New Year's couplets with immigrants and another showing his wife, Peggy Chen (陳佩琪), making New Year dishes — but they failed to impress the public, so the city this year let the YouTubers come up with ideas to learn from them.
This would help Ko and the YouTubers gain media and online exposure, he wrote.
Taipei City Councilor Wang Hong-wei (王鴻薇) of the Chinese Nationalist Party (KMT) said that Ko's declining online popularity is a warning sign, adding that people would judge him by his administrative performance if he runs for president, so working with YouTubers to boost his online popularity is pointless.
When asked whether a planned meeting with his supporters in Taichung on Saturday is in preparation for a presidential bid, Ko said that about 70 percent of the donations he received for his election campaign last year came from non-Taipei residents, adding that the event aims to show his gratitude to his supporters.
Ko also brushed aside a question about his mother's remark that he and the Democratic Progressive Party did not owe each other anything.
The comment was not intended to imply anything about whether he would run as an independent in the elections, he said.
Comments will be moderated. Keep comments relevant to the article. Remarks containing abusive and obscene language, personal attacks of any kind or promotion will be removed and the user banned. Final decision will be at the discretion of the Taipei Times.