Wu Den-yih presidential rumors re-emerge
'FLIPPER'? A party member said that the KMT chairman 'looks before he leaps' and his reluctance to comment indicates that he is yet to make up his mind on a bid
Talk of a 2020 presidential bid by Chinese Nationalist Party (KMT) Chairman Wu Den-yih (吳敦義) re-emerged after a series of events Wu fronted yesterday to thank people for supporting the party in last month's nine-in-one elections.
The first event was a tea ceremony in Changhua County, at which KMT members voiced their support for Wu to enter the race.
Former Changhua county commissioner Juan Kang-meng (阮剛猛) called Wu as a discerning leader and President Tsai Ing-wen (蔡英文) an "immoral president."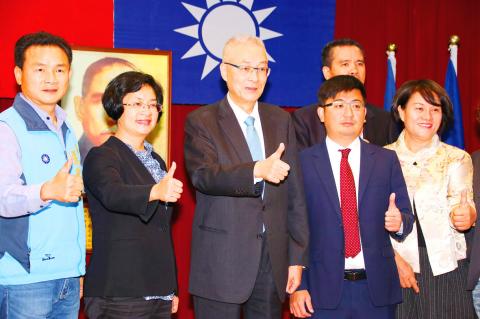 Chinese Nationalist Party (KMT) Chairman Wu Den-yih, left, gestures at an event in Changhua County yesterday.
Photo: CNA
Former legislator Hsiao Ching-tien (蕭景田) described Wu as a national treasure, saying it would take a good leader to "flip Taiwan" in 2020.
However, Wu was not drawn on who would likely be the KMT's presidential candidate, telling reporters on the sidelines of the event that a candidate would be selected in a fair and open manner at an opportune time.
He said it is his job as party chairman to ensure fairness and openness in the selection process, regardless of what method the party uses to choose its candidate.
The KMT would work to nominate the most suitable candidate with the best chance to win the 2020 race, Wu said.
A KMT member, who spoke on condition of anonymity, said that Wu is the type of person who "looks before he leaps" and that his reluctance to comment indicates that he is yet to make up his mind.
Wu's intentions should be clearer after legislative by-elections next month and in March, and after he completes his thank-you tours, the source said, adding that Wu has the support of nearly 20 KMT Central Standing Committee members.
They would help him secure the party's nomination, the source said.
In other news, online news outlet ETtoday on Friday quoted an anonymous KMT member as saying that New Taipei City Mayor Eric Chu (朱立倫) is planning to set up a presidential campaign office after his term ends on Tuesday.
When asked about the report yesterday, Chu said that he would announce his next step on the day he becomes an ordinary citizen.
Additional reporting by Ye Kuan-yu
Comments will be moderated. Keep comments relevant to the article. Remarks containing abusive and obscene language, personal attacks of any kind or promotion will be removed and the user banned. Final decision will be at the discretion of the Taipei Times.