Eric Chu urges selection of safe nuclear disposal site
New Taipei Mayor Eric Chu (朱立倫) on Thursday called for a coordinated effort to select a definitive site for the disposal of nuclear waste from the Jinshan Nuclear Power Plant in the city's Shihmen District (石門), saying that decommissioning of the plant cannot take place before an environmental impact assessment (EIA) is conducted.
Chu said the central and local governments, as well as the ruling and opposition political parties need to work out a solution for the disposal of nuclear waste from the plant, which is Taiwan's oldest.
Decommissioning was set to commence on Wednesday, but could not start because of administrative problems.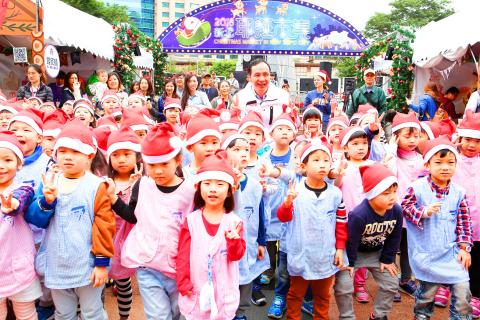 New Taipei City Mayor Eric Chu, back row center, poses for a photograph with schoolchildren during a promotional activity at Christmasland in the city's Banciao District yesterday.
Photo: CNA
Chu made the remarks after saying on Wednesday that nuclear waste should never be stored in a heavily populated area.
Taiwan Power Co (Taipower) is required under law to file a decommissioning request and begin an EIA by the Environmental Protection Administration (EPA) three years before such a facility permanently stops operations.
Taipower has not yet received approval from the EPA.
Chu said that the EPA first has to complete its final environmental assessment review.
Taipower has not received a permit from the New Taipei City Government to construct an outdoor storage facility at the plant for the dry storage of spent nuclear fuel because its construction plan for the site failed to meet the city's soil and water conservation requirements, Chu added.
He also asked Taipower to explain to the public why nuclear waste should be stored at an outdoor facility, rather than a safer indoor one.
Meanwhile, Liu Ho-jan (劉和然), director of the city's Environmental Protection Department, said that the municipality supports decommissioning the nuclear power plant, but wants Taipower to revise its decommissioning plans and secure an EPA permit as soon as possible.
The city hopes the problem of nuclear safety can be resolved before discussing issues related to the decommissioning of the nuclear plant, Liu said, adding that the city should under no circumstance be the final site for nuclear waste disposal.
The EPA's environmental impact assessment committee on Thursday met to review the plant's decommissioning and asked Taipower to submit supplementary documents for a review at its next meeting.
Comments will be moderated. Keep comments relevant to the article. Remarks containing abusive and obscene language, personal attacks of any kind or promotion will be removed and the user banned. Final decision will be at the discretion of the Taipei Times.