Taiwan-friendly bill passes US Senate
DEMONSTRATING COMMITMENT: Senators spent nearly three years on the legislation, which says that it is US policy to combat attempts to change the cross-strait 'status quo'
The US Senate on Tuesday passed the Asia Reassurance Initiative Act of 2018, which includes a section reaffirming the US' commitment to Taiwan, particularly arms sales.
The legislation was in April introduced by US Senator Cory Gardner, chairman of the US Senate Foreign Relations Subcommittee on East Asia, the Pacific and International Cybersecurity Policy, and cosponsored by senators Ed Markey, Marco Rubio, Ben Cardin and Todd Young.
It serves as a policy framework to improve US leadership in the Indo-Pacific region and to demonstrate a commitment to a free and open Indo-Pacific and the rules-based international order, Gardner said in a statement on Wednesday.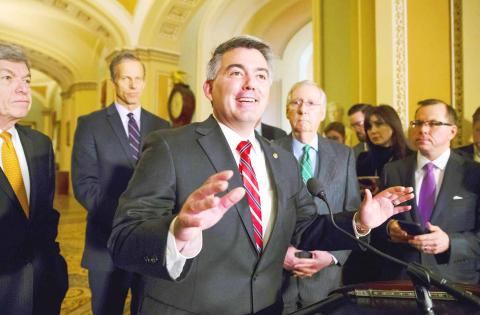 US Senator Cory Gardner speaks after a weekly, closed-door strategy session on Capitol Hill in Washington on Jan. 9.
Photo: AP
Section 209 of the bill states that it is US policy to support a close economic, political and security relationship with Taiwan.
It is also US policy to enforce all existing government commitments to Taiwan, consistent with the 1979 Taiwan Relations Act, the Three Joint Communiques and the "six assurances" agreed to by then-US president Ronald Reagan in 1982, the bill says.
It also reiterates US policy to counter efforts to change the cross-strait "status quo" and to support a peaceful resolution acceptable to both sides of the Taiwan Strait.
The draft act states that the US president should conduct regular transfers of defense articles to Taiwan that are tailored to meet the existing and likely future threats from the People's Republic of China, including supporting Taiwanese efforts to develop and integrate asymmetric capabilities into its military forces as appropriate, including mobile and cost-effective capabilities.
The US president should also encourage high-level US officials to travel to Taiwan in accordance with the Taiwan Travel Act, it says.
Gardner said that the senators have been working on the bipartisan legislation for nearly three years and urged "swift action in the House of Representatives to send this legislation to the president's desk to be signed into law."
Both chambers of Congress must pass an identical bill before it is submitted to the president for signing.
However, with less than a month left before the 115th Congress ends on Jan. 3, it is uncertain whether the bill would clear the House in time.
In other developments, the Ministry of Foreign Affairs yesterday said another round of Taiwan-US talks under the bilateral Trade and Investment Framework Agreement (TIFA) is unlikely to be held this year.
Department of North American Affairs Deputy Director-General Regine Chen (陳慧蓁) said that Washington has yet to schedule a date for the next talks, as the US Trade Representative's office has other tasks at hand, and holding such talks is not a top priority.
However, Taipei and Washington are constantly exchanging views on bilateral trade issues via the platform, Chen said.
The last talks were held in September 2016, and were led by Vice Minister of Economic Affairs Wang Mei-hua (王美花) and then-deputy US trade representative Robert Holleyman.
Talks were not held last year due to three deputy US representative positions being vacant, said Minister Without Portfolio John Deng (鄧振中), who also heads the Cabinet's Office of Trade Negotiations.
TIFA was signed in 1994, and 10 rounds of talks have been held since 1995.
Comments will be moderated. Keep comments relevant to the article. Remarks containing abusive and obscene language, personal attacks of any kind or promotion will be removed and the user banned. Final decision will be at the discretion of the Taipei Times.