Hsieh warns over result of food-ban referendum vote
BACK FOR A VISIT: The nation's representative office in Japan would work in accordance with the referendum's results, Frank Hsieh told reporters
All Taiwanese must bear the consequences of passage of the referendum on Saturday last week that called for continuing the ban on imports of certain Japanese agricultural and food products, Representative to Japan Frank Hsieh (謝長廷) said yesterday.
Referendum #9, initiated by the Chinese Nationalist Party (KMT), asked: "Do you agree that the government should, in connection to the March 11 Fukushima Dai-ichi nuclear disaster, continue to enforce the food imports ban on 31 regions in Japan, including agricultural and food products from Fukushima and the surrounding four prefectures and municipalities (Ibaraki, Tochigi, Gunma and Chiba)?"
Of the nearly 10 million ballots cast on the question, 78 percent said yes to the question, while 22 percent voted "no."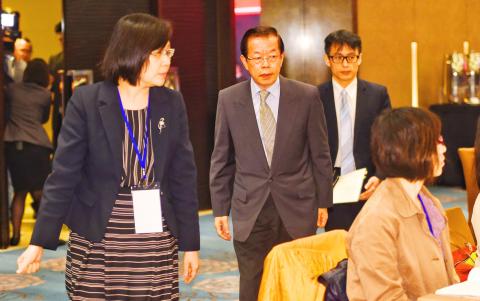 Representative to Japan Frank Hsieh, center, arrives for the Taiwan-Japan trade and economic meeting at the Ambassador Hotel in Taipei yesterday.
Photo: Liu Hsin-de, Taipei Times
Hsieh, who is back in Taipei for the annual Taiwan-Japan trade and economic meeting that began yesterday, told reporters that his office respects the referendum results.
It would continue to work in accordance with the results, he said, adding: "That's how democracy works."
Asked if passage of the referendum could hurt ties with Japan, Hsieh said that all Taiwanese would have to bear the consequences of the vote together.
Hong Kong has already partially lifted its ban on food imports from the same areas in Japan and China is expected to follow suit soon, he said.
That would leave Taiwan as the only nation in the world to have a full ban on all food imports from the five prefectures affected by radioactive fallout from the 2011 disaster.
Japanese Minister of Foreign Affairs Taro Kono told a legislative interpellation session in Tokyo yesterday that the referendum results were extremely regrettable and that the Japanese government did not rule out taking the issue to WTO.
Japanese Representative to Taiwan Mikio Numata on Sunday said the issue had been politicized and that Tokyo hoped the ban would be lifted soon.
Ministry of Foreign Affairs spokesman Andrew Lee (李憲章) on Monday said that the government would talk to Japan about the results of Saturday's referendum to ensure relations were not affected.
The Taiwan-Japan trade meeting is being held at the Ambassador Hotel in Taipei and is scheduled to conclude this morning.
Comments will be moderated. Keep comments relevant to the article. Remarks containing abusive and obscene language, personal attacks of any kind or promotion will be removed and the user banned. Final decision will be at the discretion of the Taipei Times.