Taiwan best choice for developing medical innovations, president says
Taiwan is an ideal place for medical innovation, President Tsai Ing-wen (蔡英文) said yesterday at the opening of the Taiwan Healthcare+ Expo, which aims to foster interaction and cooperation between physicians, biotechnology companies, and healthcare-related services and networks.
Taiwan is the best location for medical technology development due to its strengths in medical procedures including catheter ablation, advanced reconstructive surgery and reconstructive microsurgery, she said.
The nation provides good examples for healthcare systems worldwide and has helped establish new treatment guidelines, she said, adding that Taiwanese healthcare facilities have become important training bases for medical practitioners from around the world.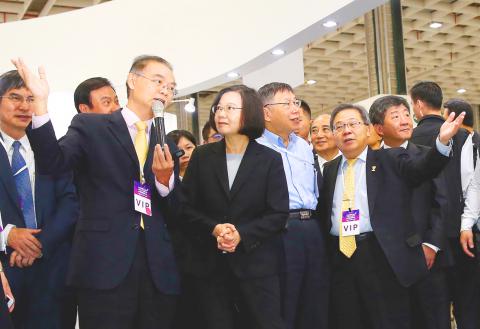 President Tsai Ing-wen, front row second left, and Taipei Mayor Ko Wen-je, front row second right, yesterday visit the Taiwan Healthcare+ Expo at Taipei Nangang Exhibition Center.
Photo: CNA
Taiwan's comprehensive technological supply chains, which include IC design, semiconductor manufacturing, and information and communications technology (ICT) product development foster medical and health-related innovation, she said.
Biotechnology and pharmaceutical industries in Taiwan develop and produce new drugs that meet global standards, she said.
The expo at the Taipei Nangang Exhibition Center is an important platform for authorities, academics and the private sector to cooperate and show the world the nation's strengths, she said.
Taipei Mayor Ko Wen-je (柯文哲), a physician, said that local medical technology development should take Taiwan's social structure and culture into consideration and, even more importantly, should provide "humanistic" care.
Politics must improve people's daily lives, he said.
Medicine can be divided into four levels: avoiding illness, preventing serious diseases, preventing conditions from worsening and preventing death, and the goal for medicine should be to gradually shift from emphasizing the last to concentrating on the first, Ko said.
Moving toward prevention means that diet, exercise, healthcare and screening should be emphasized in addition to medical treatment, he said.
Taiwan's strengths in the ICT and biotechnology industries has the potential to contribute to this shift and to humanistic care services, allowing people to live healthier lives, Ko added.
After Tsai, Ko and other officials visited a number of booths, reporters asked Ko whether his post-election first meeting with Tsai pointed to possible renewed cooperation with the Democratic Progressive Party (DPP).
"Let nature run its course," he said.
Asked why he did not interact more with Tsai and whether they had scheduled a meeting to discuss cooperation, Ko said that he got behind while visiting booths, as he knew many exhibitors, who had asked for photographs with him.
Ko added that he had not been informed about any meeting with Tsai.
Comments will be moderated. Keep comments relevant to the article. Remarks containing abusive and obscene language, personal attacks of any kind or promotion will be removed and the user banned. Final decision will be at the discretion of the Taipei Times.