AIT head heralds 'travel year'
'BIG SUCCESS': Christensen cited Taiwan's inclusion in the US' Global Entry and visa-waiver programs as examples of the shared goals of closer ties and economic benefits
American Institute in Taiwan (AIT) Director Brent Christensen yesterday announced that next year — the 40th anniversary of the Taiwan Relations Act — would be a "travel year," pledging to engage in activities and campaigns to promote two-way travel between Taiwan and the US.
Christensen made the remarks at the opening of the USA Pavilion at the Taipei International Travel Fair. The pavilion at the Taipei Nangang Exhibition Center features seven booths representing US states, territories, cities, airlines and service providers.
"I often talk about my four priorities as AIT director, better known as my 'four promotes': promote US-Taiwan security cooperation; promote the US-Taiwan economic and commercial relationship; promote Taiwan's role in the global community; and promote people-to-people ties," said Christensen, who assumed leadership of the AIT in August.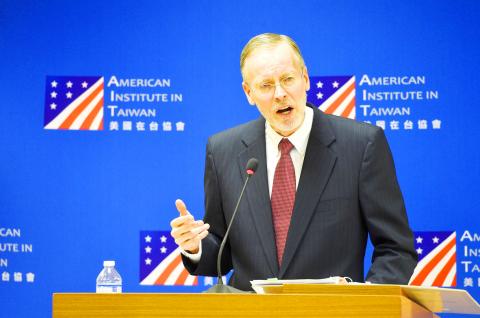 American Institute in Taiwan Director Brent Christensen speaks in Taipei on Oct. 31.
Photo: George Tsorng, Taipei Times
Christensen said that travel and tourism are topics close to his heart.
"If you think about it, increased travel and tourism work directly towards two of those objectives: bringing mutual economic benefits and strengthening people-to-people ties," he said.
This year marks the first anniversary of Taiwan's participation in the US' Global Entry program, which allows travelers expedited entry into the US, as well as the sixth anniversary of Taiwan's inclusion into the US' visa-waiver program.
The programs are a testament to the shared commitment by Taiwan and the US to facilitate travel and people-to-people ties, he said.
Since the nation's inclusion into the visa-waiver program, the number of Taiwanese traveling to the US has increased more than 60 percent, with the US being the top long-haul destination for outbound travelers, he said.
"We welcomed approximately 475,000 Taiwanese tourists last year, who spend over US$2.2 billion on travel tourism goods. What a win for Taiwan and the US," he said.
As for Global Entry, Christensen said that it has also been a huge success since Taiwan's inclusion in November last year and that is why a group of US Customs and Border Protection officers are returning to the AIT early next month to conduct more enrollment interviews.
"Beyond impressive economic indicators, travel and tourism also strengthen social and cultural ties between people. Through travel, ideas are exchanged, communities are united across oceans and preconceived notions about foreign cultures are replaced with understanding," Christensen said.
"In this way, we can create networks that allow us to foster mutually beneficial relationships," he said.
Comments will be moderated. Keep comments relevant to the article. Remarks containing abusive and obscene language, personal attacks of any kind or promotion will be removed and the user banned. Final decision will be at the discretion of the Taipei Times.