2018 ELECTIONS: Police look into mayoral candidate death threats
INCITING VIOLENCE: One post calling for Han Kuo-yu's assassination was traced to a person in Singapore, but investigations are ongoing as IP addresses can be altered
Criminal Investigation Bureau officials said they have detained a suspect and are tracking another for allegedly posting death threats against Chinese Nationalist Party (KMT) Kaohsiung mayoral candidate Han Kuo-yu (韓國瑜).
One of the suspects is a Taiwanese surnamed Chao (趙), while the other is Singaporean, investigators said.
Investigators pinpointed their locations through their IP addresses and on Wednesday brought Chao in for questioning, pending charges on offenses against public safety for threatening violence.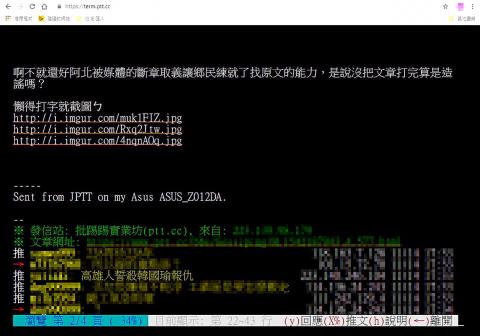 A screengrab of a thread on the Professional Technology Temple bulletin board system discussing the assassination threat against Chinese Nationalist Party's (KMT) Kaohsiung mayoral candidate Han Kuo-yu is pictured yesterday.
Photo: Screen grab from PTT
Chao, a 47-year-old engineer who lives in Taipei's Shilin District (士林), admitted to writing the post, 9th Investigation Brigade Captain Lin Chien-lung (林建隆) said.
Earlier this month, a police cyberunit launched an investigation after finding a statement reading "Kaohsiung residents vow to kill Han Kuo-yu for revenge" on Professional Technology Temple, the nation's largest online bulletin board system, Lin said.
"I was just expressing my opinion on the election. Some overly heated words were used, but I did not intend to harm any candidate, nor was I trying to incite violence. It was a way to release my emotions at the time. I did not take any action to harm Han," police quoted Chao as saying during questioning.
Chao has been transferred to the Shilin District Prosecutors' Office.
The bureau respects online freedom of expression, but if messages threaten or intimidate violence, then police will prosecute, Lin said.
In the other case, a message on Han's Facebook fan page urging "comrades" to "assassinate Han Kuo-yu" was traced to a person going by the name of "Liang Tang Wong."
Han's campaign office filed a complaint with the Kaohsiung Police Department, requesting an investigation.
"After tracing the IP address to Singapore, we believe it was posted by a Chinese-Singaporean person and have contacted the Singaporean authorities to help track this person down," Lin said.
However, work is still under way to verify the true origin of the message, as IP addresses can be hidden or altered to conceal a sender's identity, Lin said.
Comments will be moderated. Keep comments relevant to the article. Remarks containing abusive and obscene language, personal attacks of any kind or promotion will be removed and the user banned. Final decision will be at the discretion of the Taipei Times.