2018 ELECTIONS: Netizens pan Han over decision not to press charges
Netizens yesterday panned Chinese Nationalist Party (KMT) Kaohsiung mayoral candidate Han Kuo-yu's (韓國瑜) campaign office over its decision not to pursue charges against people allegedly spreading false information about his campaign, calling it a staged event to draw public sympathy.
The comments came after a man, surnamed Lin (林), who had accused Han of offering voters in Kaohsiung's Zuoying District (左營) NT$6,000 per vote, said in an interview with Eastern Broadcasting Co News that he was actually a KMT member and praised Han's magnanimity for declining to press charges.
One netizen said it was hilarious to see a KMT member posting allegations on the Internet that Han's campaign was vote-buying, then apologizing afterward.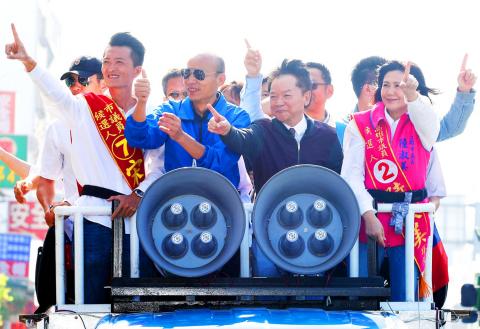 Chinese Nationalist Party (KMT) Kaohsiung mayoral candidate Han Kuo-yu, second left, joined by singer Yeh Chi-tien, second right, campaigns in Dagang District yesterday.
Photo: CNA
Other netizens said the whole incident could have been staged by Han's campaign office.
Asked about the incident, Han told reporters that he did not know Lin personally, adding that he had not been diligently following the issue.
According to a statement released by the KMT's Kaohsiung chapter, it had investigated Lin's claims that he had joined the KMT while performing his mandatory military service, but it did not find Lin's name in the party's list of members.
The party updated its membership database in 2000, and it did not contact Lin during the process or after, the KMT chapter said.
Han's campaign office added that based on Lin's Facebook activity, he appears to lean toward the Democratic Progressive Party as his account is very active with pan-green Facebook fan groups.
The office said it had contacted Lin yesterday morning, who said he "hoped the issue is concluded."
The office also conveyed Lin's statement that he would not be doing any more interviews.
Additional reporting by Wang Jung-hsiang
Comments will be moderated. Keep comments relevant to the article. Remarks containing abusive and obscene language, personal attacks of any kind or promotion will be removed and the user banned. Final decision will be at the discretion of the Taipei Times.