2018 ELECTIONS: Chen Chu stumps for DPP candidates in Taichung
The "Han wave," or the wave of support for Chinese Nationalist Party (KMT) Kaohsiung mayoral candidate Han Kuo-yu (韓國瑜) is being hyped by certain media outlets and Internet platforms, and should eventually pass, Presidential Office Secretary-General Chen Chu (陳菊) said yesterday.
Support for Han's Democratic Progressive Party (DPP) rival, Chen Chi-mai (陳其邁), has been rising, said Chen Chu, who served as Kaohsiung mayor for 12 years before resigning in April to join President Tsai Ing-wen's (蔡英文) administration.
What voters want is a candidate with knowledge about running a city and their plans for the future, she said as she campaigned for Taichung Mayor Lin Chia-lung (林佳龍) and DPP city councilor candidates in Taichung's Shengang District (神岡), the city's fifth electoral district.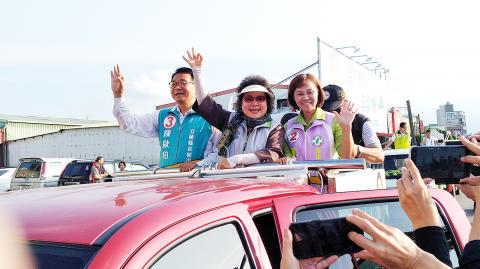 Presidential Office Secretary-General Chen Chu, center, takes part in a motorcade with Democratic Progressive Party Yilan County commissioner candidate Chen Ou-po, left, and Yilan County Council candidates in Yilan County yesterday.
Photo: Chiang Chih-hsiung, Taipei Times
Kaohsiung's residents are likely to approve of a candidate who understands Kaohsiung the way Chen Chi-mai does, she said.
Kaohsiung has long been the most important base in the nation for Taiwan's democracy movement and she has faith in it, she said
As for Lin, who is seeking re-election, Chen Chu said she hoped that Taichung residents would recognize his hard work, professionalism and achievements as mayor.
Asked by reporters whether the decision by Lin's main rival, KMT Legislator Lu Shiow-yen (盧秀燕), on Tuesday to resign her legislative seat would affect the race, Chen Chu said resignations have been used before as a campaign tactic.
While she respects Lu's decision, it would have a limited effect on the election, she added.
Lin said he appreciated Chen Chu's support and endorsement as she gives people a sense of warmth and reliability.
Taichung is improving, and many of the changes that are being made in the city can already be seen, he said.
There has been a lot of negative campaigning in this year's elections, including personal attacks on Chen Chu and smear campaigns, he said.
He sympathizes with those who have been the target of negative campaigns, and looks forward to society having more positive energy, he added.
Lu, who said her resignation was a way to demonstrate her determination to win, was the fourth lawmaker to resign to focus on the elections, following the DPP's Pasuya Yau (姚文智), who is running for Taipei mayor; Chang Li-shan (張麗善), the KMT's candidate for Yunlin County commissioner, and Chen Chi-mai.
Calling the Taichung election a must-win race, Lu said she has promised to free the city from air pollution, low wages and economic stagnation if elected.
"It is a very big responsibility. I must win," she said.
Although the posts from which Chang and Chen Chi-mai resigned were legislator-at-large seats, which can be filled by their respective parties, the seats vacated by Yao and Lu must be filled through by-elections, as there is more than a year before their terms are due to expire on Jan. 31, 2020.
According to the Civil Servants Election and Recall Act (公職人員選舉罷免法), legislative by-elections must be held within three months of a lawmaker resigning.
Chen Chu also visited Yilan County yesterday to stump for the DPP's candidates for commissioner and county council.
Additional reporting by CNA
Comments will be moderated. Keep comments relevant to the article. Remarks containing abusive and obscene language, personal attacks of any kind or promotion will be removed and the user banned. Final decision will be at the discretion of the Taipei Times.