PROFILE: Hsieh Sen-shan keeping alive art of film billboards
The vocation and handicraft of hand-painting movie billboards is on the wane as neon signs and digital billboards of the modern age decorate the facades of high-rises and rooftops.
Seventy-three-year-old Hsieh Sen-shan (謝森山) is one of a handful in Taiwan who still practices the trade.
He insists on hand-painting billboards and has accepted a request to make a short video for the General Association of Chinese Culture.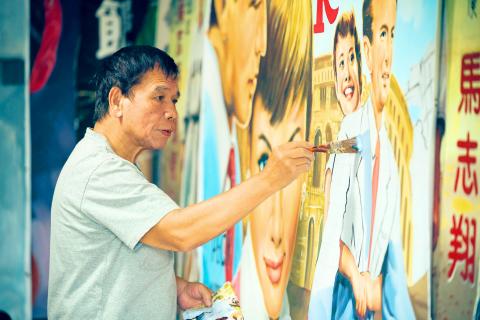 Artist Hsieh Sen-shan paints a film billboard in an undated photograph.
Photo courtesy of the General Association of Chinese Culture
Born in Taichung, Hsieh later moved with his family to Taoyuan.
"I always wanted to learn a craft or trade," Hsieh said, adding that he was heavily influenced by the environment he grew up in in his formative years.
Hsieh said that he often passed by Jingfu Temple, which was near the local hub of cinemas often referred to as "Little Ximending" after Taipei's Ximending (西門町) entertainment and shopping area.
"The sky was filled with one billboard after another," Hsieh said, adding that when he passed by, he would often think to himself what he wouldn't give to be the one who had painted those billboards.
Hsieh said he started learning the trade at Eastern Advertising — now called Eastern International Advertising — when he was 15, hoping to ease the financial burden on his family.
Within two years, he had mastered the basics of the trade, allowing him to set up shop by the age of 20, after his mandatory military service.
The company did not provide room or board, nor did it offer a salary, Hsieh said, adding that painters would not actually "teach" the apprentices.
"It was more watch-and-learn, rather than a hands-on teaching process," Hsieh said, adding that it usually took apprentices three to four years to master the basic techniques and gain enough know-how.
"It was hard work and many hours of practice day and night that allowed me to master the techniques within two years," Hsieh said.
Hsieh said that once, he and another apprentice rode bicycles from Taoyuan to Ximending just to look at theater billboards there.
"We sat there with flashlights and just looked at the billboards in the dead of night," Hsieh said.
Hsieh said he spent a brief period in an apprenticeship in Ximending learning different styles and techniques, which helped him better portray a livelier sense of characters and movie settings.
During the golden age of movie theaters from the 1960s to the 1980s, Hsieh said he had simultaneous contracts with seven cinemas and was working day and night.
"Sometimes a contract would call for drawings and paintings for premieres," he said. "The faces of the characters alone would require 10 pieces of canvas."
"It was quite a taxing and difficult job," he said. "Not only did the color tone on every canvas have to be the same, gradations of light and shadow, and the liveliness in characters' features were aspects to consider."
However, the vocation of hand-painted movie billboards went into rapid decline after the introduction of digital printing in 1986 and a decline in the Taiwanese cinema industry, which saw many cinemas shut down, Hsieh said.
The few remaining ones transitioned into multiplex theaters.
"The older generation of billboard painters retired and others sought other careers," Hsieh said, adding that he was one of the few who still did the work.
Lin's hand-painted billboards are only displayed by Jhongyuan Cinema on Rixin Road in Taoyuan's Jhongli District (中壢).
"Little did I know that I would be in the trade for more than six decades," Hsieh said, adding that he would keep painting and drawing as long as he can.
"It is my hobby. I want to continue as long as I can and maybe see it passed on to the next generation," he said.
Comments will be moderated. Keep comments relevant to the article. Remarks containing abusive and obscene language, personal attacks of any kind or promotion will be removed and the user banned. Final decision will be at the discretion of the Taipei Times.