INTERVIEW: New TRA head aims to restore railways to former glory
Chang Cheng-yuan, who late last month stepped down as deputy minister of transportation and communications to assume the post of Taiwan Railways Administration (TRA) director-general, told 'Liberty Times' (sister paper of the 'Taipei Times') staff reporters Jennifer Huang and Cheng Wei-chi that he is not there to supervise the agency, but "here to stand with its personnel to recover the 100-year-old institution's greatness"
Liberty Times (LT): Train manufacturer Nippon Sharyo has said that the automatic train protection (ATP) system used by Puyuma Express trains has design flaws, but added that the TRA was responsible for inspecting the trains before acceptance. The comments suggested that the TRA made mistakes during the acceptance process. What is your response?
Chang Cheng-yuan (張政源): I was not a participant in the procurement or acceptance of the trains in 2013, so I cannot comment on it yet. The Executive Yuan and other government agencies are conducting a comprehensive review. If the results vindicate the TRA, I would defend it; if there were mistakes, the people who made them will be held responsible according to the law and regulations.
The Japanese firm acknowledged design flaws in the remote operation and supervision systems for the ATP, but the ATP itself and the cars are otherwise fine. The priority right now is addressing the issues with the remote systems.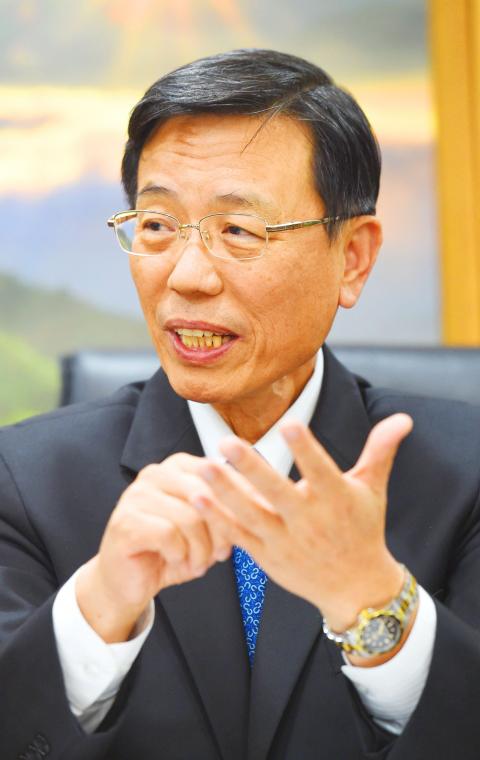 Incoming Taiwan Railways Administration Director-General Chang Cheng-yuan speaks to the "Liberty Times" (sister paper of the "Taipei Times") in Taipei on Nov. 2.
Photo: Liu Hsin-de, Taipei Times
There are plenty of precedents internationally where defective trains were recalled after fulfillment of the contract and delivery. The TRA expects Nippon Sharyo to take responsibility or face the legal consequences.
LT: How does the TRA plan to reform itself?
Chang: The TRA serves 230 million people per year. We are an established brand with a lustrous past and it truly hurts to see the company sink to such a level. I have returned to the company in hopes of restoring its old glory.
We have, for the time being, selected three goals: ensuring safety, raising morale and steeling resolve for reform.
To achieve this, we must realize six goals: ensuring travel safety; revitalizing office culture, making it more upbeat and progressive; increasing service quality; improving the work environment; modernizing trains and railroad tracks; and — eventually — corporatizing the TRA.
The TRA has a responsibility to travelers and it is not yet time for corporatization. Even so, we must face the fact that the TRA, while seen as a state-run company, is nothing like one. The bureaucracy must be addressed.
LT: How do you respond to criticism following the derailment that the TRA is understaffed?
Chang: We need to look at facts, data and history before talking about the TRA's staff levels. The TRA at its peak employed 23,000 people, but that was 20, 30 years ago. Automation has greatly reduced the staff requirement since then; for example, electronic cards and automated ticket gates have replaced sales clerks and ticket inspectors.
The TRA does not need 20,000 employees, especially not with its fourth-generation ticketing system coming online next year. More is not always better and the focus should be on making efficient use of available staff.
Most importantly, we have to ensure that there are enough mechanics, technicians and engineers on duty, including drivers. To increase competence, we also need to raise training standards.
The TRA has 13,000 personnel. In accordance with Executive Yuan policy that predates the derailment, the agency is to increase its staff by 2,818 over three years.
LT: Another common criticism is that low wages contribute to high personnel turnover at the TRA. Are you making changes to address this issue?
Chang: I have accepted an effective demotion and pay cut to work at the TRA again. People keep saying that the TRA director-general's monthly salary of NT$115,310 (US$3,731), including base pay and bonuses, is less than that of other senior heads at the agency and some drivers. However, drivers have a special job and they receive hazard pay, overtime and other bonuses, so this is not comparing like to like.
While the TRA is state-run, its pay scale differs from that of other public-sector employers. New railway employees are paid less than other entry-level civil servants. However, while ordinary civil servants cannot expect pay raises until they are promoted to section chief, railway employees, like teachers, receive raises according to seniority.
With sufficient seniority, some employees earn more than the director-general.
Turnover at the TRA was 18.1 percent in 2013 and 18.7 percent last year. That is not unduly high when compared with turnover in the civil service as a whole, which was about 18 percent. It is also incorrect to assume that TRA employees are too old; the average age of railway personnel is 43.3, and mechanical and technical staff, who form the backbone of the organization, tend to be in their 40s and 50s.
My priority is improving working conditions.
LT: One-quarter of the TRA's train cars are at least 30 years old and some railway sections are also in bad shape. Does the agency plan to address these issues?
Chang: The TRA has purchased few cars over the past few years, as its finances were consistently in the red. However, with the new government supporting railway infrastructure and providing NT$100 billion in funding under the Forward-looking Infrastructure Development Program, the TRA has plans to finalize a bid on 520 electric multiple units in May and start bidding on 600 cars for intercity trains, 60 environmentally friendly cars and 127 locomotives, for a total of 1,307.
The new purchases would allow the TRA to renew at least half of its fleet of more than 2,300 cars.
The priority in our purchases is to expand our passenger capacity. The tilting trains we have purchased until now have been restricted to eight cars. We expect our future purchases to accommodate at least 10 to 12 cars, which would increase our passenger capacity by 20 to 50 percent. That would also reduce instances when tickets are sold out.
Taiwan being an island nation, railroad tracks are inevitably curved, and it is impossible to remove all the turns and replace them with straight stretches. Through electrification of tracks and by adding a second track on certain sections, we expect to improve the 35 turns in our network with a curve radius of 720m or less.
LT: With its total annual deficit exceeding NT$100 billion, how does the TRA plan to turn its finances around?
Chang: The agency shoulders the task of providing public transportation and as such it should not be focused on profits. Our goal is to balance expenditure and income.
On the transportation side, the TRA has been profitable since 2016, writing black numbers for two consecutive years in which it earned about NT$500 million.
However, the TRA has many historical burdens and many of its deficits are due to circumstances out of its control. We will continue to lobby the Executive Yuan in hopes of reducing our responsibilities.
As for the union's suggestion that train frequency be cut back, the TRA believes it could determine more appropriate frequencies by employing big data.
The TRA's ticket prices have always been on the low side, but we are not considering a price hike, although we should explore new modes of pricing to better reflect our costs.
More importantly, the agency should seek to develop more sources of income. It owns 241 train stations and the land on which they stand, which make up a valuable asset porfolio.
More than 50 of the TRA's stations are on prime real estate and the agency is to establish a task force to explore possibilities for the further development of land around its stations.
We will enter into talks with municipalities on how to revitalize the land and space we own.
Japan Railways Group's non-transport revenue comprises more than 80 percent of its income, a model that the TRA could strive to emulate by running the TRA like a business.
In addition to being transportation hubs, train stations can be developed into commercial and economic hubs, further enmeshing them into people's daily lives.
Translated by staff writers Jonathan Chin and Jake Chung
Comments will be moderated. Keep comments relevant to the article. Remarks containing abusive and obscene language, personal attacks of any kind or promotion will be removed and the user banned. Final decision will be at the discretion of the Taipei Times.