Investigators to question 300 in vote-buying case
Investigations into vote-buying in Hsinchu County resulted in 25 people being brought in for questioning, including Chinese Nationalist Party (KMT) County Councilor Lo Chih-hsiang (羅吉祥), in a case that could involve 300 more people, potentially making it the largest of its kind in the county's history, the Hsinchu District Prosecutors' Office said in a statement yesterday.
Lo is running for mayor of the county's Jhudong Township (竹東) in the Nov. 24 nine-in-one elections.
He was released yesterday after posting bail of NT$700,000, while a borough warden and a vote-broker were released after posting bail of NT$150,000 each.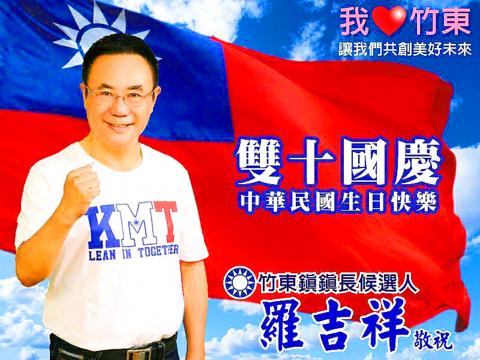 The Chinese Nationalist Party's (KMT) Jhudong Township mayoral candidate, Hsinchu County Councilor Lo Chih-hsiang, is pictured in an undated Double Ten National Day poster.
Screen grab from Facebook
Lo and 24 other people were interviewed in the initial round of questioning that began on Wednesday, Prosecutor Huang Yi-wen (黃怡文) said yesterday, adding that documents are being drawn up to summon the other 300 people who have been implicated.
Prosecutors have sufficient evidence that the Civil Servants Election and Recall Act (公職人員選舉罷免法) has been contravened and plan to press charges, Huang said.
Investigators said that Lo had used two vote-brokers in Jhudong to disburse money to the township's 15 borough wardens, allegedly giving them NT$30,000 each to consolidate support for him.
"We have never seen such a large-scale vote-buying scheme. The money was distributed from the top by the KMT councilor's people and trickled down to individual residents," a Hsinchu police official working on the case said.
Investigators also found that Lo, through his deputies and campaign workers, had organized free banquets in several Jhudong neighborhoods, and had presented fruit boxes and other gifts to eligible voters.
It was reported that Lo had admitted to distributing money during the campaign, which was why he was released on bail.
However, Lo's campaign office yesterday released a statement saying that it did not engage in any vote-buying activities and that it had not done anything illegal.
Comments will be moderated. Keep comments relevant to the article. Remarks containing abusive and obscene language, personal attacks of any kind or promotion will be removed and the user banned. Final decision will be at the discretion of the Taipei Times.