Amateurs show work at Comic Nova
COMIC SCRIPT? Animator Yang Ching-yu said her short film that introduces ancient Chinese script was not based on rigorous study, but instead highlighted amusing parts
Amateur artists on Sunday showcased their creations, including an animated film series about early Chinese writing systems and an introduction to bar culture, at Comic Nova 9 in Taipei.
The event at the Taipei Flora Expo Park had a special zone to display creations by atypical experts, event organizer Fancy Frontier said.
By working with Academia Sinica's Center for Digital Cultures, the group has found more people skilled in cultural creation, Fancy Frontier member Chiu Hsiao-liang (邱小良) said.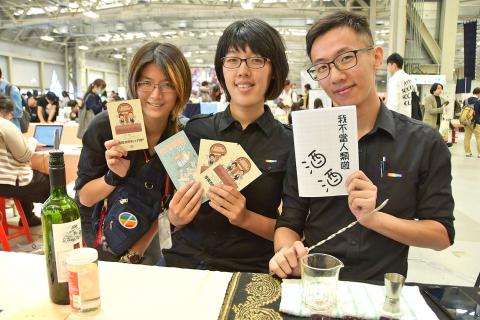 Chung Sheng-feng, right, holds a book of essays on Taipei bar culture with other amateur artists at Comic Nova 9 at the Taipei Flora Expo Park on Sunday. Warning: Excessive consumption of alcohol can damage your health
Photo: Wu Po-hsuan, Taipei Times
Prior to the fair, nearly 100 people took part in a three-week training workshop run by the center's researchers, who gave lectures about translation, creation and regulations regarding intellectual property, Chiu said.
Among them, Yang Ching-yu (楊靖昱), who obtained a bachelor of arts degree from Kingston University London's illustration and animation program, created an animated short film introducing Chinese bone script, which dates back as much as 4,000 years.
The film, titled Hannah's Semiology: Posing as Human, features an anthropomorphic Chinese character named Hannah, who introduces characters by changing poses.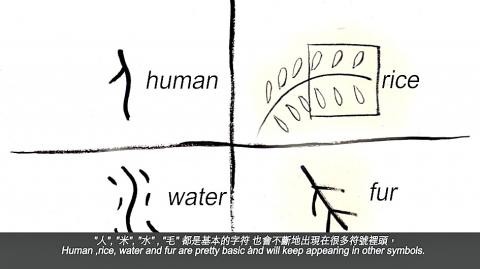 Early Chinese charactes are pictured in a still from animated film series Hannah's Semiology: Posing as Human by Yang Ching-yu.
Photo: Screen grab from the Internet
Yang said she has not studied the symbols as rigorously as academics, but she highlighted amusing parts of the ancient writing system.
In the first episode, Human Gestures, Hannah introduces the symbol for "poo" as a person with four dots behind them and "pee" as a person with three dots in front of them.
It is so easy to understand that even foreigners found them funny, Yang said, adding that more hilarious stories would be introduced in the second episode, More Than Cubes.
Sinjhuang Community University member Tu Yun-chi (度昀奇) displayed books and pamphlets at the Comic Nova special zone introducing the culture of New Taipei City's Sinjhuang District (新莊).
He compiled the material with writer Cheng Ching-wen (鄭清文), who passed away last year, Tu said.
As most students at the university are older, he was able to share his work with more young people at the workshop, Tu said.
Meanwhile, Chung Sheng-feng (鍾勝峰), who studied astronomy, displayed his essays and Web site about bar culture in Taipei, including some interesting dialogue between intoxicated customers.
Chung said he hopes people would dispense with negative impressions of bars.
Comments will be moderated. Keep comments relevant to the article. Remarks containing abusive and obscene language, personal attacks of any kind or promotion will be removed and the user banned. Final decision will be at the discretion of the Taipei Times.