Groups call for control of illegal factories on farms
ACCUSED: The government has failed in its pledge to unveil a list of illegal factories for demolition and is currying favor with companies, environmentalists said
Environmental groups yesterday urged the government to more strictly regulate unregistered factories built on farmland, saying their number continues to grow, despite measures stipulated in the Factory Management Act (工廠管理輔導法).
Democratic Progressive Party (DPP) Legislator Lin Tai-hua (林岱樺) on Friday last week asked the Cabinet to give a 10-year grace period to more than 50,000 factories built on farmland after the deadline for guiding their transformation expires on June 20, 2020.
Instead of just putting off the deadline, the government should help the factories become legal, Premier William Lai (賴清德) said, drawing criticism from environmental groups.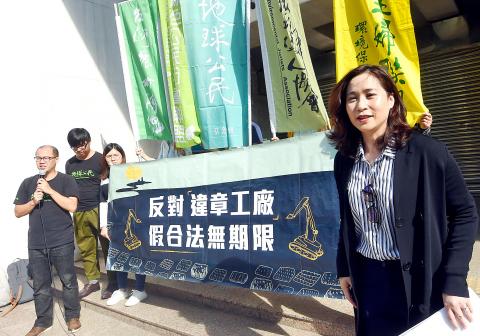 New Power Party Legislator Kawlo Iyun Pacidal stands next to a banner that reads "Oppose rule-breaking factories and the quasi-legal deadline extension" at a rally in Taipei yesterday.
Photo: Fang Pin-chao, Taipei Times
Lawmakers on the Legislative Yuan's Economics Committee yesterday met to review draft amendments to the act's Article 33 and Article 34 related to temporary registrations of illegal factories.
Environmental groups accused the lawmakers of trying to curry favor with factory owners by proposing irresponsible amendments.
However, the committee later in the meeting stopped reviewing the proposals and asked the Cabinet to submit its version of draft amendments by the end of this legislative session.
Separate draft amendments proposed by Lin and Chinese Nationalist Party (KMT) legislators Hsu Shu-hua (許淑華) and Wang Hui-mei (王惠美) propose that the definition of unregistered factories qualified for temporary registration should be expanded to cover those built before March 31 or May 20, 2016, instead of those built before March 14, 2008.
After the act was amended in 2010 to allow unregistered factories to apply for temporary registrations, the number of new unregistered factories has risen from 4,043 that year to 5,734 last year, New Power Party Legislator Kawlo Iyun Pacidal said, citing data compiled by the Taiwan Environmental Information Association.
Instead of curbing unregistered factories, the act allows them to grow in number and occupy farmland that is already fragmented, Citizen of the Earth, Taiwan researcher Wu Chi-jung (吳其融) said.
While the nation has nearly 600,000 people working at unregistered factories and 800,000 in the agriculture sector, the former's growth should not be predicate on the latter's sacrifice, Wu added.
The government in October last year announced that it would demolish 17 illegal factories built after May 20, 2016, but two of them remain intact, Homemakers United Foundation researcher Tang Lin-hsiang (湯琳翔) said, adding that the government has also failed in its promise to announce a second demolition list by the end of last year.
Comments will be moderated. Keep comments relevant to the article. Remarks containing abusive and obscene language, personal attacks of any kind or promotion will be removed and the user banned. Final decision will be at the discretion of the Taipei Times.