Initiative seeks to teach children Hoklo using cartoons
The Ministry of Education has launched an initiative to teach children Hoklo (also known as Taiwanese) using cartoons.
The ministry obtained permission from the creators of five Taiwanese and foreign cartoon shows to use them in the initiative, Department of Lifelong Education Director Wu Chung-yi (吳中益) said on Sunday.
It commissioned the National Taichung University of Education's Department of Taiwanese Languages and Literature to translate, subtitle and dub the cartoons, Wu said.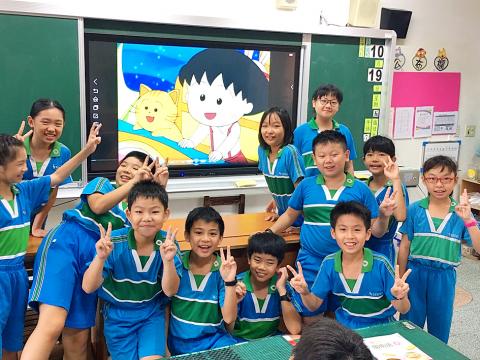 Elementary-school students pose for a photograph in front of a television screen displaying a Hoklo-dubbed version of popular Japanese anime Chibi Maruko-chan in a classroom in Taipei yesterday.
Photo: Lin Hsiao-yun, Taipei Times
The cartoons are Japan's Chibi Maruko-chan and Shounen Ashibe: Go! Go! Goma-chan, France's Penelope, and Taiwan's Katz Fun (卡滋幫) and DNAxCat (九藏喵窩).
The ministry has distributed 4,000 copies to be used at the preschool, elementary and junior-high school levels, Wu said.
Starting next month, people would also be able to watch the videos on the ministry's Web site, he added.
Cheng Chun-yuan (程俊源), an assistant professor in the department who worked on the project, said the translators used reference materials for words that were difficult to translate.
Many students and teachers who watched the dubbed cartoons were surprised by the similarity between the voice of Maruko-chan in the Mandarin and Hoklo versions, he said.
Dubbing is a crucial aspect of animation, Cheng added.
In cases when the department could not hire the voice actor who dubbed the Mandarin version to dub the Hoklo version, the team made sure the Hoklo voice actors spoke in a similar accent so that the characters would feel familiar, he added.
Comments will be moderated. Keep comments relevant to the article. Remarks containing abusive and obscene language, personal attacks of any kind or promotion will be removed and the user banned. Final decision will be at the discretion of the Taipei Times.