Ministry to keep seeking visit by pope to Taiwan
The Ministry of Foreign Affairs yesterday said it would continue to seek a visit by Pope Francis to Taiwan after the Vatican on Thursday issued a statement, which specified its "religious" context, declining an invitation by Vice President Chen Chien-jen (陳建仁) during his trip to the Holy See.
In a press release, the ministry said that due to the pontiff's lofty international status as a global religious and moral leader, many governments and people are earnestly looking forward to a visit by Francis, who has visited more than 30 nations since he assumed the papacy in 2013.
"For years, the government and the Chinese Regional Bishops' Conference of Taiwan have reiterated invitations to the pope to visit Taiwan," the ministry said, adding that such a visit would allow the pontiff to see religious freedom and diversity in action, as well as the nation's contributions in facilitating religious dialogue, acting as a bridge between religions of the world.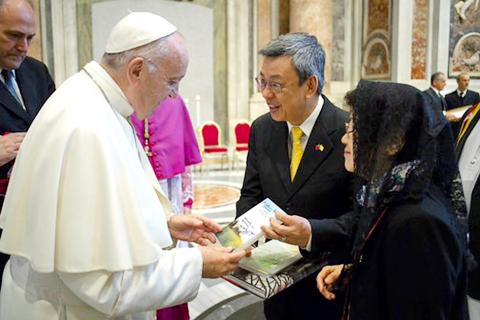 Vice President Chen Chien-jen, center, and his wife, Luo Feng-ping, hand gifts to Pope Francis at a ceremony at the Vatican on Sunday.
Photo: CNA
"The government will continue to extend our invitation to the pope for a visit and we hope the Holy See could help arrange one," it said.
The ministry's remarks came after the Holy See Press Office on Thursday issued a declaration stating that the pope is not planning to visit Taiwan.
The office said that Chen on Sunday extended an invitation in a "strictly religious" context during a brief courtesy greeting with Pope Francis before a canonization ceremony for pope Paul VI and six others.
The Vatican's response seemed different in tone to Chen's description on Tuesday, when he told reporters at Taiwan Taoyuan International Airport that the pope's reaction to his invitation was "cordial and amicable."
Reports have speculated that there might be a switch of recognition by the Vatican — Taiwan's sole European diplomatic ally — from Taipei to Beijing, which late last month reached a breakthrough deal with China regarding the appointment of bishops.
No pontiffs have visited Taiwan since the Republic of China and the Holy See established formal diplomatic ties in 1942.
Comments will be moderated. Keep comments relevant to the article. Remarks containing abusive and obscene language, personal attacks of any kind or promotion will be removed and the user banned. Final decision will be at the discretion of the Taipei Times.