Vice President Chen leads delegation to ex-papal residence
Vice President Chen Chien-jen (陳建仁) and his delegation to the Vatican on Friday received a warm welcome at Castel Gandolfo, Pope Paul VI's summer residence.
Chen, who led the delegation to the Holy See to attend a ceremony today to canonize Paul VI and six others, visited the palace south of Rome as part of his itinerary.
They were the only visitors on an outing perceived as a special arrangement by the palace.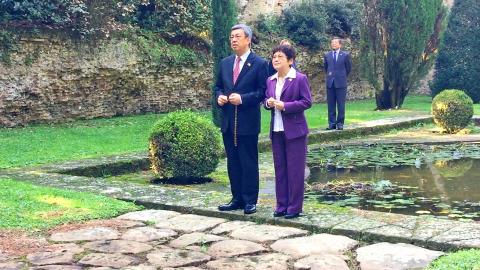 Vice President Chen Chien-jen, left, and his wife, Luo Feng-ping, pray in Castel Gandolfo, Italy, on Friday.
Photo: CNA
The trip came just after China and the Vatican signed an agreement concerning the appointment of bishops in China.
Chen was appointed by President Tsai Ing-wen (蔡英文) as her envoy to the Holy See to bolster ties between Taipei and the Vatican.
Castel Gandolfo was designated by pope Urban VIII in 1623 as a summer residence and every pope after him had resided in the palace during the summer before Pope Francis broke the routine in 2013 and opened it to the public in 2016.
After visiting Castel Gandolfo, Chen prayed with his wife, Luo Feng-ping (羅鳳蘋), in front of a statue of the Virgin Mary.
With assistance from a tour guide, Chen and his delegation, which also included Deputy Minister of Foreign Affairs Kelly Hsieh (謝武樵), surveyed portraits of every pope and their private living rooms, as well as their wardrobes and furniture, including an antique desk in the study, where the popes mapped out their policies.
They toured the pope's living room, which was used as a makeshift delivery room during World War II for female refugees, who between them gave birth to more than 40 babies in it.
Pope Francis is to canonize pope Paul VI today, along with former San Salvador archbishop Oscar Arnulfo Romero and five others, at the 15th ordinary general assembly of the Synod of Bishops, which runs through Oct. 28.
Comments will be moderated. Keep comments relevant to the article. Remarks containing abusive and obscene language, personal attacks of any kind or promotion will be removed and the user banned. Final decision will be at the discretion of the Taipei Times.