Church could turn into tourist draw
The Tri-mountain National Scenic Area Office yesterday said it hopes to repair Lishan Jesus Church, a government-designated historical building that is the highest church in the nation, and help promote it to tourists.
The church, in what is now Taichung's Heping District (和平), was built in 1960 and was designated a historical site by the Taichung Cultural Affairs Bureau in 2014.
At an altitude of 2,011m, it is known as "the place closest to God," and is said to have been frequented by then-president Chiang Kai-shek (蔣介石) and his wife, Soong Mayling (宋美齡).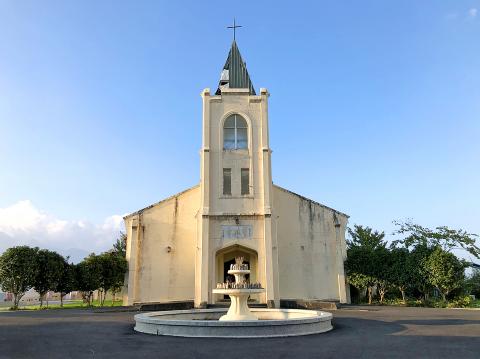 Lishan Jesus Church in Taichung's Heping District is pictured on Wednesday.
Photo: Ou Su-mei, Taipei Times
An evaluation conducted by the Taichung Cultural Heritage Department in 2016 determined that renovating the building would cost NT$12 million (US$389,712 at the current exchange rate).
It suggested funding the repair project by applying for subsidies from the central government.
However, after a storm last year, the church roof began to leak, and while the department offered a subsidy of NT$99,000 for repairs, work has not yet begun.
Hsu Cheng-yi (徐正義), chairman of the Atayal Presbytery that owns the church, said it hopes to help promote tourism in the area and is looking for bidders.
The church has the potential to be a popular tourist attraction because it is beautifully built and has a great view of the Snow Mountain Range (雪山山脈), said Huang Cheng-yuan (黃元政), a warden in Lishan Township (梨山).
Promoting it alongside other nearby attractions would hopefully bring more tourists to Lishan, Huang said.
Office deputy head Liao Hsih-biao (廖錫標) said it was a shame the church's roof has not been repaired, and he urged the presbytery to work with authorities on repairs.
While the church is still used by its parishioners, it is not regularly open to visitors, so people wanting to view it need to call before visiting.
Comments will be moderated. Keep comments relevant to the article. Remarks containing abusive and obscene language, personal attacks of any kind or promotion will be removed and the user banned. Final decision will be at the discretion of the Taipei Times.