Group calls for regular inquiries after Kaohsiung firefighter's death 'forgotten'
The National Association for Firefighters' Rights yesterday demanded a thorough inquiry into the death last month of a firefighter in Kaohsiung and called for legislation requiring investigations for every firefighter who dies during rescue missions.
"Immediately after his death, the news was on front pages and people were calling him a hero, but just a week later he had been forgotten," association secretary-general Chu Chih-yu (朱智宇) told a news conference in front of the Executive Yuan in Taipei. "So far there has been no investigation into his death and no explanation for its cause."
Tsai Pei-sheng (蔡倍昇), 35, died in hospital on Sept. 23, one hour after he was found unconscious during a rescue mission at a townhouse in Kaohsiung's Cieding District (茄萣).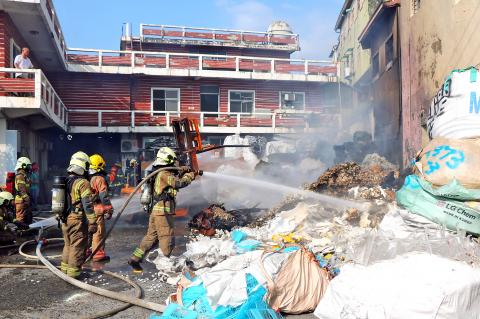 Firefighters tackle a blaze in Tainan yesterday, bringing it under control in under 30 minutes.
Photo: Wan Yu-chen, Taipei Times
Tsai had entered the building with three other firefighters and the team had successfully rescued an 11-year-old girl, the Kaohsiung Fire Bureau said.
The association said it has carefully studied the incident using security footage and other information they could access and found a number of issues they believe could be linked to his death.
The Hunei Fire Department, which was the first to respond to the fire, has only six to seven people on duty every day, said association president Yang Shih-wei (楊適瑋), who is also a firefighter.
The lack of personnel could cause the rescue operation commander to overlook important details, such as checking oxygen bottles, timing firefighters' entry into a burning building and reminding them to come out before their oxygen runs out, he said.
Tsai was far from the water supply and was alone when found, raising questions about whether the department had adhered to standard safety procedures, such as always ensuring firefighters enter a burning building in pairs and use a search rope to prevent getting lost, he said.
Residential fires are the most common type, and townhouse fires account for 37 percent of all fires in Taiwan, Chu said.
"If the government cannot even detect a problem in rescue operations for the most common type of fire, because it is unwilling to investigate the cause of a firefighter's death, how can it convince firefighters that they are safe at all?" he asked.
The association called for a thorough investigation into Tsai's death to prevent similar incidents and urged the Executive Yuan and legislators to support regulations requiring the Executive Yuan's Disaster Prevention and Response Office and the Ministry of the Interior to form an investigation committee any time a firefighter is killed on duty.
Morris Mo (莫懷祖), chief of rescue operations at the National Fire Agency, said the agency always investigates deaths and injuries of firefighters.
However, it does not have access to all of the documents for each case, because certain information cannot be disclosed until prosecutors complete their investigation and local fire bureaus are not obliged to share everything, he said.
Mo promised there would be an investigation into Tsai's death and invited the association to attend a meeting with the agency on Friday next week.
Comments will be moderated. Keep comments relevant to the article. Remarks containing abusive and obscene language, personal attacks of any kind or promotion will be removed and the user banned. Final decision will be at the discretion of the Taipei Times.