National Day to laud lighthouse keepers, athletes
The National Day Celebrations Organization Committee yesterday unveiled an animated logo for Double Ten National Day, which is on Wednesday next week, adding that at the national ceremony on Taipei's Ketagalan Boulevard, six lighthouse keepers would lead attendees in singing the national anthem in a symbol of the government's resolve to protect and guide an "ocean country."
This year's National Day is themed "Taiwan, Together," and the animation features "technicolor" images of shifting pixels forming various patterns before finally forming the outline of Taiwan.
The logo aims to convey the ideas of "diversity, return and unity," said Legislative Speaker Su Jia-chyuan (蘇嘉全), who chairs the committee.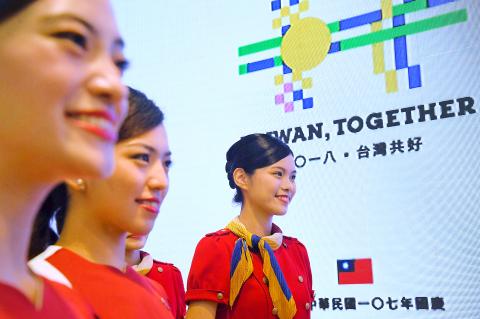 Three women yesterday attend a news conference at the Legislative Yuan in Taipei about preparations for the National Day Celebrations on Wednesday next week.
Photo: CNA
It wants to convey that Taiwan is ethnically diverse; that Taiwanese living overseas can always return, regardless of their ethnicity or occupation; and that people can make Taiwan better by showing unity, Su said.
Taiwan is an ocean country, so the committee invited six lighthouse keepers to lead the national anthem, in line with the idea of "protecting and guiding the nation," Su said.
Athletes who competed at the Asian Games in Indonesia would make an appearance on 24 floats at the ceremony, Su said.
The addition would add to the jubilant and festive atmosphere of the ceremony, Su said, adding that the public should feel more confident knowing that the national sports team's excellent performance has propelled Taiwan onto the world stage and increased its global visibility, despite Chinese oppression.
Apart from the standard performances by honor guards and marching bands, Su said the ceremony would also feature performances by jump-roping pupils from Pingtung County's Renai Elementary School and by the choir from Nantou County's Minhe Junior High School, whose performance in July at the UN World Peace Choral Festival in Vienna was canceled last-minute by organizers under Chinese pressure.
As a prelude to the main event, the Presidential Office Building would feature light sculptures from tonight, Su said.
The National Day evening banquet for overseas Taiwanese is to be held by the Yilan County Government, and would feature speakers and singers, he said, adding that it would be the second consecutive year that the banquet is held outside Taipei.
Similarly, the national fireworks show is to be held at the Port of Hualien, Su said, adding that the committee picked the venue to help the county's tourism industry after it was hit by a magnitude 6 earthquake in February.
That the fireworks display is to be held in Hualien should dispel accusations that the government neglects Hualien's development, acting Hualien County Commissioner Tsai Pi-chung (蔡碧仲) said.
Comments will be moderated. Keep comments relevant to the article. Remarks containing abusive and obscene language, personal attacks of any kind or promotion will be removed and the user banned. Final decision will be at the discretion of the Taipei Times.