Migrant literature award winners gather in Taipei
DIVERSITY: Pieces were sent in from Taiwan, Singapore, Hong Kong and Macau, in Indonesian, Tagalog and Thai, and included one by an author currently in jail in Taiwan
This year's Taiwan Literature Awards for Migrants on Sunday were presented to winners from Indonesia, Vietnam and the Philippines.
The candidates' writing has enriched Taiwan's literary landscape and promotes cultural understanding, National Museum of Taiwan Literature deputy director Hsiao Shu-chen (蕭淑貞) said.
Now in its fifth year, the competition received 553 submissions in Tagalog, Indonesian, Vietnamese or Thai by immigrants or migrant workers living in Taiwan, Hong Kong, Macau, Singapore and Malaysia, making it the largest of its type in the world.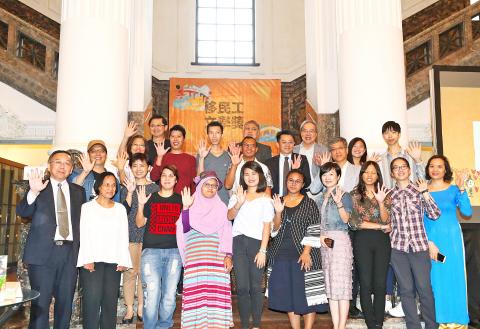 Winners of the Taiwan Literature Awards for Migrants on Sunday pose for group photographs at the National Museum of Taiwan Literature in Tainan.
Photo: CNA
Loso Abdi, from Indonesia, won the top prize and the Teen Choice Award for Tentang Cinta (About Love), which describes the love a migrant caretaker bestows upon a Taiwanese child with special needs whom she looks after.
"I would like to take this opportunity to thank Taiwan for hosting the competition," said Loso Abdi, who worked in Taiwan from 2011 to 2015.
Melinda Babaran, a Philippine employee at a Taiwanese semiconductor factory, shared second place with Louie Jean Decena, also from the Philippines and working in Taiwan.
In Latay sa Laman, Babaran expresses her love for her father, whom she misses when she has no one to talk to. In Ang Mahiwagang Kahon ni ltay, Decena describes the longing of migrant workers for their families at home.
Yuli Riswati's Luka Itu Masih Ada di Tubuhku and Pratiwi Wulansari's story, Orang-orang Penampungan, were among the three pieces chosen for third place.
The two Indonesian authors, both working in Hong Kong, address migrant issues in their entries.
Also in third place was a Philippine migrant worker whose name was not released, as she is serving a prison sentence in Taiwan.
In a prerecorded video shown at the ceremony, she said that her work addresses the difficulties she encountered in defending her innocence in court, including being prevented from hiring a lawyer from the Philippines.
She was assigned a Taiwanese lawyer, but she did not know whether he interpreted her words correctly when he addressed the authorities in Mandarin, she said.
The award, initiated in 2014 by Southeast Asian bookstore Brilliant Time, is sponsored by the Ministry of Culture and Pegatron Electronics Co, among other sponsors.
Comments will be moderated. Keep comments relevant to the article. Remarks containing abusive and obscene language, personal attacks of any kind or promotion will be removed and the user banned. Final decision will be at the discretion of the Taipei Times.