Tainan to sell Confucius snack noodles
The Tainan Cultural Affairs Bureau on Monday unveiled Confucius-branded snack noodles to be sold in stores around the city's main historic sites, including the Confucius Temple.
Marketing successes earlier this year of beer and potato chips featuring Koxinga, also known as Cheng Cheng-kung (鄭成功), has been encouraging, the bureau said, adding that the Confucius noodles would hopefully appeal to diverse demographics of visitors.
The city has worked closely with a reputable food company to produce the noodles, it said.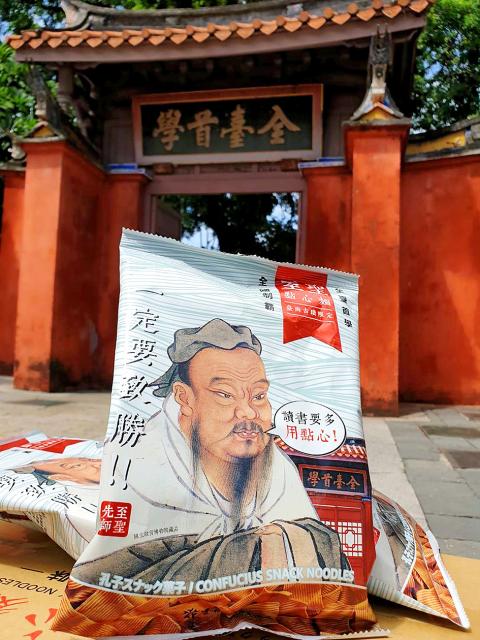 Bags of Confucius-branded snack noodles are displayed in front of the Confucius Temple in Tainan on Monday.
Photo: Liu Wan-chun, Taipei Times
The front of the packaging features an authorized painting of Confucius from the National Palace Museum's collection alongside text reading "You must apply yourself" and an image of the city's Confucius Temple, the bureau said.
The back contains the first verse of the Analects of Confucius, a short biography of Confucius and an introduction to the temple's Gate of Proprieties and Road of Righteousness, it said.
The noodles are available in select shops, including Fort Provintia, Fort Zeelandia, the Eternal Golden Castle (億載金城), Koxinga Shrine (延平郡王祠), Anping Tree House (安平樹屋) and the Tainan Creativity Center, it said.
Comments will be moderated. Keep comments relevant to the article. Remarks containing abusive and obscene language, personal attacks of any kind or promotion will be removed and the user banned. Final decision will be at the discretion of the Taipei Times.