Hualien museum becomes army recruitment center
The military has repaired the earthquake-damaged Hualien Humanities Museum and reopened it for use as a recruiting office for the Hualien region, the National Armed Forces Recruitment Center said yesterday
The structure was once the Hualien City military police garrison and during the White Terror era it instilled fear as a visible symbol of authoritarian rule. It later became the first military facility in eastern Taiwan to be converted for civilian purposes.
From 2014 to this year, the Hualien County Government managed the site as the Hualien Humanities Museum, following the military's decision to allow free use of the building by the local government.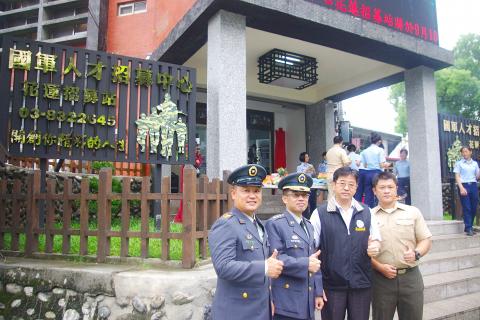 Military officers pose outside the former Hualien Humanities Museum in Hualien County yesterday. The building has been renovated following earthquake damage and repurposed as a recruiting office for the Hualien region.
Photo: Wang Chun-chi, Taipei Times
However, after powerful earthquakes struck Hualien on Feb. 6, the county said that the museum was unsafe and, as it could not afford to make repairs, it would return the property to the military.
The military has made the necessary improvements and the building is now rated as safe, Hualien head of military recruitment Chien Shou-hsiang (簡守鄉) said.
The facility was selected for the recruitment station because of its convenient location and its spaciousness, he said, adding that it could accommodate the growing staff requirements of his office.
The center is equipped and staffed to provide a streamlined process, from information services for prospective volunteers, aptitude and intelligence tests, to background checks before enlistment, he said.
The Hualien recruitment office oversees 700 enlistments in an average year, and it hopes to boost that number, Chien said, adding that people with a high-school diploma or equivalent earn a minimum salary of NT$34,000 per month in the military.
Comments will be moderated. Keep comments relevant to the article. Remarks containing abusive and obscene language, personal attacks of any kind or promotion will be removed and the user banned. Final decision will be at the discretion of the Taipei Times.