Ko says factions want to 'take him down': deputy
Taipei Mayor Ko Wen-je (柯文哲) believes political factions might be backing Wu Yin-ning (吳音寧), general manager of Taipei Agricultural Products Marketing (TAPM), so that they can "take him down," Taipei Deputy Mayor Chen Chin-jun (陳景峻) said yesterday.
Over the past week, Ko and Wu have been debating a project to renovate the Taipei First Wholesale Fruit and Vegetable Market.
Comments that Democratic Progressive Party (DPP) Taipei City Councilor Chien Hsu-pei (簡舒培) made in late August stirred up controversy about why the city government rejected Wu's proposed plan for the market's renovation.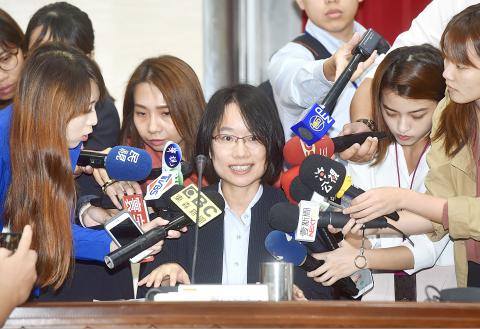 Taipei Agricultural Products Marketing general manager Wu Yin-ning, center, addresses the media in Taipei yesterday during a meeting to debate a renovation plan for the Taipei First Wholesale Fruit and Vegetable Market.
Photo: Chien Jung-fong, Taipei Times
Chien said Wu's proposal could have saved the project up to NT$1.1 billion (US$35.7 million).
However, Ko has repeatedly criticized Wu for not presenting her proposal to the Taipei City Council, being absent from project planning meetings and for posting her proposal on Facebook instead of following established administrative procedure and giving a report at a municipal meeting.
When city councilors questioned him about the project last week, he defended city officials and briefly lost his temper when asked to apologize to Wu.
Last week, Wu responded through at news conference and on Facebook, saying that her proposal was better, as it incorporated suggestions from market workers, and that she did attend several city meetings.
Yesterday morning, Wu attended a meeting of the Taipei Public Works Department and the Department of Economic Development at Taipei City Hall and said that although she had asked questions and offered recommendations at meetings, the Taipei Market Administration Office, after much discussion, adopted a previously proposed design for the market.
Recommendations submitted by TAPM in July were different from those made in March, Taipei Department of Economic Development Lin Chung-chieh (林崇傑) said, adding that the plan had been progressively modified.
There was no specific plan that could shave a billion New Taiwan dollars from the budget, he added.
After the meeting, Wu said she was glad that the group had arrived at a consensus on certain project issues, such as increasing the height of the auction site's floor to 11m and establishing a total of 1,800 parking spaces.
Separately in a radio interview yesterday, Chen said that Ko was upset, because he believes city governance needs to be open and transparent and thought that Wu, as TAPM general manager, should have respected established administrative procedure.
"He [Ko] also wondered if Wu was being backed by a political faction that aimed to take him down," said Chen, a DPP member.
Ko also suspected that the DPP's decision to nominate its own mayoral candidate this year, instead of supporting him, emboldened Wu to "attack" him, Chen added.
Chen defended the mayor, saying that Ko did not use foul language last week at the city council meeting, but merely used a common expression to convey how upset he was.
Comments will be moderated. Keep comments relevant to the article. Remarks containing abusive and obscene language, personal attacks of any kind or promotion will be removed and the user banned. Final decision will be at the discretion of the Taipei Times.