Lai orders creation of disaster zone restoration team
GREEN TIDE: President Tsai Ing-wen commended armed forces personnel for their disaster relief work, saying their performance speaks for their national defense capabilities
Premier William Lai (賴清德) yesterday ordered the Ministry of Economic Affairs to hold an interdepartmental meeting to review flood prevention measures that have been taken in flooded areas of the south since Wednesday last week and propose methods to improve them.
Lai issued the directive during a weekly Cabinet meeting in Taipei, after the ministry and other agencies briefed him about their response to the floods.
Due to the serious damage caused by southwesterly air flows battering southern Taiwan last week, Lai also ordered that an ad hoc disaster restoration team coheaded by ministers without portfolio Chen Mei-ling (陳美伶) and Wu Tze-cheng (吳澤成) be established to streamline restoration efforts and help people return to their normal lives.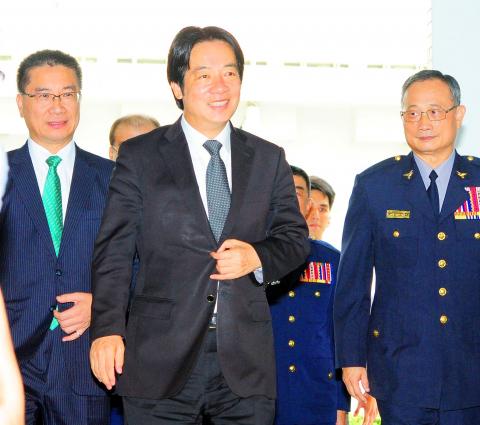 Premier William Lai, center, smiles yesterday after attending the weekly Cabinet meeting in Taipei.
Photo: Wang Yi-sung, Taipei Times
Existing flood prevention mechanisms can only manage 250 milliliters to 300 milliliters of rain within 24 hours, and the extremely heavy rain over the past week far exceeded the capabilities of such infrastructure, the premier said.
A high tide aggravated the floods, increasing the affected areas, he added, as he called on governments of affected localities to emphasize that point when addressing the public.
At the briefing, the Water Resources Agency said that the rainfall accompanying the southwesterly air flows was twice as much as that brought by Typhoon Morakot in 2009.
Drainage systems were overloaded by the larger-than-expected precipitation, which led to the flooding of more than 42,090 hectares, it said.
The Cabinet has budgeted NT$24 billion (US$7.81 million) to expand and improve drainage systems and NT$37 billion for river discharge systems, with work to develop both systems to be concentrated in flood-prone areas, the agency said.
One of the methods being deliberated involves digging trenches along median strips to prevent flooding in urban areas, it said.
Separately yesterday, President Tsai Ing-wen (蔡英文) commended military personnel for their contributions to disaster relief efforts.
"You have done well. I am proud of the military," Tsai said at an event in Taipei to mark Armed Forces Day, which is on Monday.
The troops' timely rescue and rehabilitation work during and after the floods, which safeguarded people's lives and property, demonstrated the military's national defense capabilities, Tsai said.
The government's unstinting support for the military is evidenced by a proposed increase in the defense budget for fiscal year 2019, which would not only strengthen defense capabilities, but also help with social developments, she said.
After conferring awards on military personnel for their outstanding performance, Tsai said that faced with the threat posed by extreme weather, the burden of disaster relief on soldiers is heavier than ever.
She called on the public to reward soldiers they meet with encouragement and gratitude.
Comments will be moderated. Keep comments relevant to the article. Remarks containing abusive and obscene language, personal attacks of any kind or promotion will be removed and the user banned. Final decision will be at the discretion of the Taipei Times.