NPP candidates take vow not to drink and drive
The New Power Party's (NPP) 34 candidates for city and county councilors have all signed an affidavit promising never to drive while intoxicated and that breaking this vow would mean immediate withdrawal from the nine-in-one elections on Nov. 24 or resigning from public office.
"Zero tolerance for drunk driving is the basic tenet for any politician," NPP caucus whip Hsu Yung-ming (徐永明) told a news conference yesterday in Taipei.
The NPP will not simply pay lip service like other political parties, Hsu said.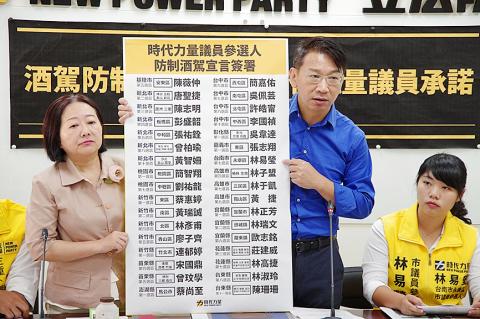 New Power Party (NPP) caucus whip Hsu Yung-ming, right, yesterday shows a list of the party's 34 city and county councilor candidates, who have all signed a vow not to drive under the influence of alcohol.
Photo courtesy of the New Power Party
The NPP caucus last year proposed draft amendments that would increase penalties against repeat offenders and people refusing Breathalyzer tests, he said.
Fines for passengers who knowingly allow drunk people to drive would also be raised, Hsu said.
Moreover, the draft amendments call for mandatory punitive payments from the offender to the victim, he added.
Hsu called on all parties to work together to prevent more drunk-driving incidents.
The NPP will not condone such behavior and any candidate who breaks the pledge would have to cease all campaign activities immediately or step down from office if they were elected, he said.
Hsu urged other parties to adopt the same method to encourage their candidates to avoid driving under the influence.
The NPP's promise shows that politicians are capable of self-discipline and are willing to lead by example, Taiwan Against Drunk Driving secretary-general Vino Lin (林美娜) said.
The group does not rule out launching protests should the Democratic Progressive Party continue to neglect its duty to oversee legislation against drunk driving, Lin said.
Comments will be moderated. Keep comments relevant to the article. Remarks containing abusive and obscene language, personal attacks of any kind or promotion will be removed and the user banned. Final decision will be at the discretion of the Taipei Times.