Ko says recording stopped because interview ended
After a local magazine reported that Taipei City Government adviser Tsai Pi-ju (蔡壁如) had stopped its reporters from recording Taipei Mayor Ko Wen-je (柯文哲) during an interview, Ko yesterday said it was because the interview had ended.
The Chinese-language Wealth Magazine on Wednesday published an interview with Ko, in which it reported that he described Tsai, his former colleague at National Taiwan University Hospital and former chief of staff at the city government, as a "flying guillotine" — a legendary Chinese weapon.
The magazine reported that Ko frequently strayed off topic during the two-hour interview, while Tsai used hand signals to try and stop him, before eventually standing up and telling him: "Stop going off topic."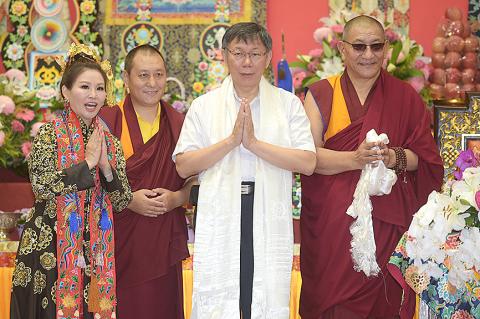 Taipei Mayor Ko Wen-je, right, wears a khata, a traditional ceremonial scarf, at the Tibetan Cultural Exhibition in Taipei yesterday.
Photo: Chang Chia-ming, Taipei Times
He continued to stray from the drafted answers, so Tsai told him to stop and called an end to the interview, it said.
Other aides rushed over, instructing the reporters to delete the footage, while Tsai told them they would no longer have the possibility to interview Ko, it said.
The magazine's report reintroduced suspicions that the city government was allegedly intervening in media coverage, with the International Federation of Journalists having earlier this month accused the city of repeatedly interfering in the media.
Asked about what he was saying when Tsai stopped the interview, Ko said: "She is often very angry, isn't she?"
"This wasn't a case of silencing a news report. The reality was that the interview was over," Ko added. "Tsai Pi-ju has always been fierce — for the past 30 years."
Comments will be moderated. Keep comments relevant to the article. Remarks containing abusive and obscene language, personal attacks of any kind or promotion will be removed and the user banned. Final decision will be at the discretion of the Taipei Times.