Pith paper studio opens in Hsinchu
Chang Hsiu-mei (張秀美) and Tseng Su-hsiang (曾素香), who witnessed the rise and fall of the pith paper industry in Hsinchu County, have opened a studio to preserve the art of making pith paper.
Pith paper, also known as rice paper, is made from the pith of the Tetrapanax papyrifer plant or the "rice paper plant."
To turn the plant — tongcao (蓪草) or tongtuomu (通脫木) in Chinese — into handmade paper, the pure white pith of the stem must be first removed using a tube, said Tseng, 75, who began working at the Chang family's factory when she was 15 and has 60 years of experience making pith paper.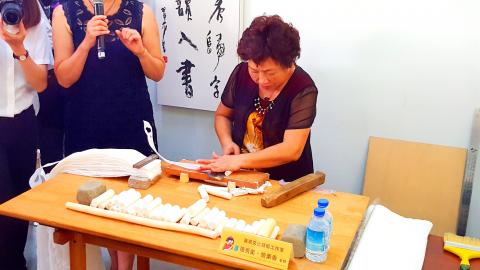 Artist Tseng Su-hsiang demonstrates how to make pith paper for a painting during a news conference in Hsinchu on Aug. 16 last year.
Photo: Tsai Chang-sheng, Taipei Times
"Then, you shave the pith segment into a thin, continuous sheet using a special knife that weighs about 1kg," Tseng said.
"The key to making an even sheet of pith paper is exerting equal pressure when you are handling the knife and slightly adjusting the amount of pressure for various pith segments," Tseng said.
The fit of the knife and the base placed under the pith is very important, which is why each person in the factory had their own set of tools, she said.
Due to the malleability of pith paper after it is soaked in water, it is often used to make handcrafted products, she said.
Sturdier piths can even be used to make fishing floats, Tseng added.
As the pith paper industry declined, most of the workers at the factory — some of whom she has remained in contact with — found new jobs, Tseng said.
Once called the pride of the county, the craft is now at risk of disappearing completely.
Today, it is estimated that fewer than 10 people nationwide know how to make pith paper.
During the 1960s, Hsinchu County produced 95 percent of the nation's pith paper, said Chang Hsiu-mei, who was born in 1960 and grew up during the industry's heyday.
At the time, about one in eight people in Hsinchu County was involved in the process of making pith paper, she said, adding that sheets of paper, artificial flowers, and drawings and paintings created using pith paper were widely exported.
Although Chang does not know how to make pith paper, she spent time in a relative's pith paper factory as a child.
She helped out at the factory and followed her mother up to the mountains to purchase the plant from Aborigines, she said.
Sometimes, she was assigned the task of cutting the plant into smaller segments, Chang said.
When the business was at its peak, there were several hundred thousand sheets of pith paper at the factory at any given time waiting to be exported, she said.
Aborigines in Hsinchu's Wufeng (五峰) and Jianshih (尖石) townships and other mountainous regions competed to grow Tetrapanax papyrifer in large quantities, Chang said.
However, as plastic and paper made from plant fibers became more common, they gradually replaced sheets of paper and artificial flowers made from pith paper, she added.
Today, pith paper has virtually disappeared and few people even know it exists, she said.
Chang said she hopes that by opening the studio, she and Tseng can prevent the nation's traditional craft from being forgotten.
Comments will be moderated. Keep comments relevant to the article. Remarks containing abusive and obscene language, personal attacks of any kind or promotion will be removed and the user banned. Final decision will be at the discretion of the Taipei Times.