INTERVIEW: 'Deep decarbonization' needed
FIERY FUTURE? Academia Sinica's Research Center for Environmental Changes is drafting a road map to help the nation take drastic action against climate change
If Taiwan continues to emit greenhouse gases at the same rate, its average temperature is likely to exceed 40°C one day, said Wang Pao-kuan (王寶貫), director of the Academia Sinica's Research Center for Environmental Changes, adding that the center plans to release a white paper with a roadmap for implementing "deep decarbonization" in the nation.
A fiery weather scenario is not far-fetched.
The Central Weather Bureau on July 10 registered a record-high temperature of 40.3°C for the year at its monitoring station in Hualien County's Tiansiang (天祥) when Typhoon Maria swept hot wind into the area.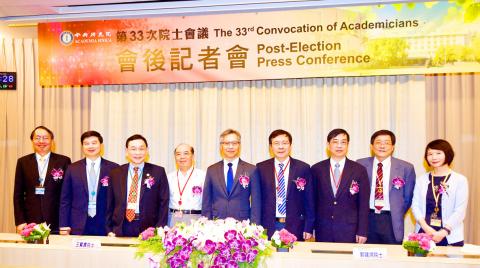 Academia Sinica president James Liao, center, and some of the 21 newly elected academics pose for a photograph at the post-election news conference in Taipei after the 33rd Convocation of Academicians on July 5.
Photo: Peter Lo, Taipei Times
The bureau on June 15 began using a three-color warning system to issue high-temperature alerts, with "yellow" signaling a temperature of 36°C; "orange" a temperature of 36°C or above for three consecutive days, or 38°C for one day; and "red" a temperature of 38°C or above for three consecutive days.
The scorching heat in the northern hemisphere this summer demonstrates that climate change is exacerbating weather severity, and that weather is becoming even more variable, Wang told the Taipei Times in an interview on Aug. 10.
While scientists worldwide have been working on models to forecast temperature change over the next 100 years, most models can only register average weather conditions, not predict extreme conditions, he said.
Some people remain skeptical about climate change, because its varying phenomena are difficult to explain using simplified models, as meteorologists cannot replicate natural conditions in the laboratory as physicists and chemists do, Wang said.
Moreover, scientists are still trying to understand the motion of air, the transmission and transformation of various energy forms and solar activity — factors pertinent to climate science, he said.
Increasing emissions of carbon dioxide are held to be the primary cause of climate change, as the gas traps heat in the Earth's atmosphere, he said.
In 2015, carbon dioxide made up about 95.21 percent of the nation's total greenhouse gas emissions, followed by methane (1.91 percent), nitrous oxide (1.58 percent), sulfur hexafluoride (0.4 percent), perfluorocarbons (0.33 percent), nitrogen trifluoride (0.22 percent) and hydrofluorocarbons (0.35 percent), Environmental Protection Administration data showed.
In the same year, the nation promulgated the Greenhouse Gas Reduction and Management Act (溫室氣體減量及管理法), in which it pledged to cut the amount of greenhouse gas emissions it produced in 2005, or 284.643 million tonnes, by 2 percent by 2020, 20 percent by 2030 and 50 percent by 2050.
The act's goals are not feasible, so the center later this year would release a white paper with recommendations on how the nation can achieve "deep decarbonization," Wang said.
The drafting of the white paper began in 2015, when Wong Chi-huey (翁啟惠) was president of the Academia Sinica, he said, adding that the center had briefed former president Ma Ying-jeou (馬英九) on the project.
The paper's first edition would explain why the nation must take more "drastic" action against climate change and even achieve "negative emissions" to meet the goals of the Paris climate deal, even though Taiwan is not a UN member, he said.
Due to its limited size, Taiwan should form "strategic alliances" with other nations to achieve climate goals, Wang said, identifying the Netherlands, the UK, Canada and Australia as potential collaborators.
Asked about Chinese National Federation of Industries chairman William Wong's (王文淵) remark that as Taiwan is too polluted to develop tourism, its economy must rely on manufacturing, Wang said that manufacturing could become "not dirty."
Industry should increase energy efficiency while reducing carbon emissions, enabling the nation to "decouple GDP growth from carbon emissions," he added.
The white paper would not include recommendations for specific industry sectors — that would require more research — but it would sketch out an optimal energy picture for the nation and ways to transform industry, as well as how a carbon tax might benefit Taiwan, he said.
"Petrochemical companies cannot continue to operate in the same old way," Wang said. "If they want to stay in Taiwan, they should improve their production techniques."
Manufacturers of electronics should follow Apple Inc's example and adopt green energy sources, he added.
Other projects related to examining aspects of decarbonization are being conducted by sociology, economics and chemistry researchers at the Academia Sinica, Wang said.
While the center receives more resources than other institutions in the nation, Wang said that its budget, equipment and personnel are not adequate for studying climate change.
"Scientists have a very limited understanding of how the oceans store far more heat than the atmosphere," he said. "Taiwan should establish an independent research center to study climate change, and elevate the center to the national policy level."
Apart from environmental issues, climate science comprises atmospheric science and ocean physics, which require powerful computers that can accurately and efficiently analyze large amounts of data, he said.
The center has asked to purchase such computers, but has been instructed to instead use the facilities at the National Center for High-Performance Computing, Wang said.
However, the computing center cannot always accommodate the research center's needs.
Leading Taiwanese businesses, like their US counterparts, should consider helping to fund academic research, but should not designate what the funds should be used for, he said.
"Taiwan is one of the richest nations in the subtropics and it should play a leading role in conducting subtropical research," Wang said.
He said he hopes the research center's scope can be broadened to permit more large-scale studies.
Comments will be moderated. Keep comments relevant to the article. Remarks containing abusive and obscene language, personal attacks of any kind or promotion will be removed and the user banned. Final decision will be at the discretion of the Taipei Times.