Rick Wu says sorry, father says his career might end
Television variety show host Jacky Wu's (吳宗憲) son, Rick Wu (吳睿軒), yesterday bowed in apology in Taipei after a post on Instagram Stories about bombing Taipei City Hall, while his father said Rick Wu might have to leave the entertainment industry.
At a news conference on the set of Jacky Wu's variety show Hot Door Night (綜藝大熱門), Rick Wu apologized for "misunderstanding and panic" after saying he would "make a bomb and bomb the Taipei City Government" if his girlfriend did not recover from an illness.
Rick Wu said his post was made on a private Instagram account and intended as a joke.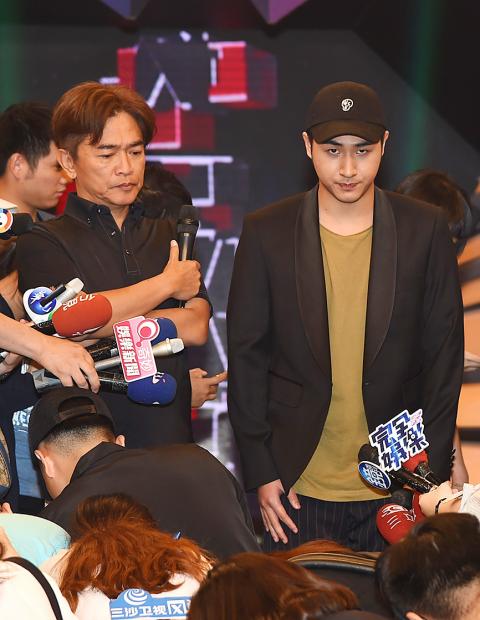 Singer Rick Wu apologizes at a news conference in Taipei yesterday.
Photo: Sung Chih-hsiung, Taipei Times
Asked by reporters whether he is a military enthusiast, Rick Wu, who was scheduled to appear on the show yesterday, said that he is not and that he does not like guns.
Jacky Wu, who accompanied his son at the news conference, said he had planned on using the time to thank fans for their support of his son's debut album, Ambulance, which was released last month, but the topic changed to Rick Wu's future in the entertainment industry.
Jacky Wu said his son, who uses the stage name LucyPIE, should announce his departure from the entertainment industry.
Pressed by reporters about whether his son would really be leaving the entertainment industry, Jacky Wu said it might be best if he did.
At about 8pm on Sunday, Rick Wu reported to the office of the Taipei City Police Department's Criminal Investigation Division, where he was questioned for about an hour.
Rick Wu has potentially breached the Criminal Code and the case has been referred to the Shilin District Prosecutors' Office, police said.
Comments will be moderated. Keep comments relevant to the article. Remarks containing abusive and obscene language, personal attacks of any kind or promotion will be removed and the user banned. Final decision will be at the discretion of the Taipei Times.