US veterans' group uses ROC flag to honor official
The US-based Veterans of Foreign Wars (VFW) displayed the Republic of China (ROC) flag to welcome Veterans Affairs Council official Wang Kai-heng (王凱珩) at an event in Bangkok on June 10, an unnamed council official said on Saturday.
A standard bearer ceremonially carried the unfurled flag and a band performed the ROC national anthem, while attendees saluted, the official said.
The decision to prominently display the ROC flag at the VFW's annual convocation for the Pacific region was a calculated show of support for Taiwan, as there is increasing pressure from China to reduce the country's profile at international events, the official said.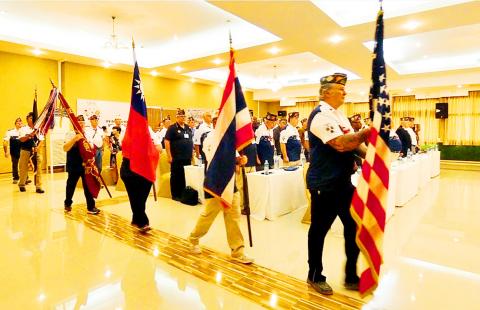 A standard bearer carries a Republic of China flag at a Veterans of Foreign Wars event in Bangkok on June 10.
Photo courtesy of the Veterans Affairs Council
Speaking at the event, Wang emphasized Taiwan's geostrategic importance to the US and thanked the VFW for passing a resolution to support the ROC, the official said.
The honor given to the ROC flag affirmed the strong ties of brotherhood between the council and the VFW, and the high regard US veterans have for the free and democratic state of Taiwan, the official said.
The VFW is an influential and long-standing friend of Taiwan with more than 170,000 members, the official said, adding that the veterans' advocacy group has sister organizations for wives and children of US war veterans, as well as for war veterans of US allies.
The council pursues ties with the VFW as a form of unofficial diplomacy, the official said.
Veteran Affairs Council Deputy Minister Lu Chia-kai (呂嘉凱) attended the VFW's annual convocation in the US, which was held from July 20 to July 29, and spoke as a guest of honor, acknowledging the organization's support for Taiwan, the official added.
Comments will be moderated. Keep comments relevant to the article. Remarks containing abusive and obscene language, personal attacks of any kind or promotion will be removed and the user banned. Final decision will be at the discretion of the Taipei Times.