Sitou businesses defy ghosts with nightly activities
BREAKING THE SILENCE: Bookings are traditionally down in the Nantou County area during Ghost Month, which starts on Saturday, the local tourism bureau said
Tourism businesses in Nantou County's Sitou area (溪頭) are attempting to break taboos by offering nighttime activities during the upcoming Ghost Month — the seventh month of the lunar calendar, which begins on Saturday.
According to traditional Chinese beliefs, during Ghost Month, spirits are released from the underworld into the mortal realm.
In Taiwanese tradition, many activities are taboo during the period, including swimming, traveling and taking wedding photographs, Nantou Tourism Bureau Director Wang Yuan-chung (王源鍾) said, adding that hotels and homestays receive fewer guests.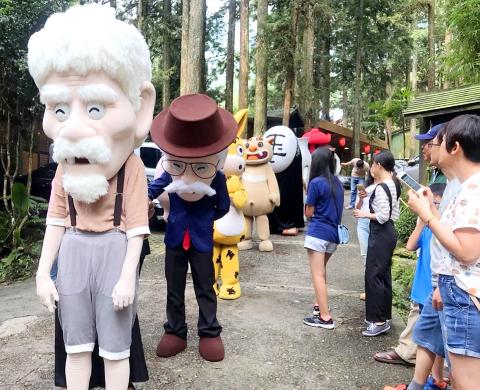 People dressed as ghouls and demons participate in a Ghost Month-themed activity in Nantou County's Sitou area in an undated photo. A series of activities is being organized in the area to mark the period, which begins on Saturday.
Photo: Hsieh Chieh-yu, Taipei Times
However, several businesses in Sitou are challenging traditional beliefs by encouraging travel and offering nighttime activities throughout the month.
National Taiwan University's Xitou Education Center yesterday said it is offering a stargazing package to overnight guests during the month, which ends on Sept. 9.
The Xitou Youth Activity Center is to put on projection mapping light shows in the forest between Aug. 11 and Aug. 29.
The Monster Village Hotel is hosting a series of Ghost Month-themed activities between Aug. 11 and Aug. 19.
Wang said he appreciates the creative tactics Sitou businesses have adopted to promote travel and tourism in the area during the period.
Travelers on the way to other Nantou destinations can stop in Sitou on their way to visit the Chelungbu Fault Preservation Park (車籠埔斷層保存園區), the Chilintan area (麒麟潭) and the Fonghuanggu Bird and Ecology Park (鳳凰谷鳥園生態園區), he added.
Comments will be moderated. Keep comments relevant to the article. Remarks containing abusive and obscene language, personal attacks of any kind or promotion will be removed and the user banned. Final decision will be at the discretion of the Taipei Times.