INTERVIEW: History museum needs Taiwanese narrative
National Museum of History Director-General Liao Hsin-tien, in an interview with 'Liberty Times' (sister newspaper of the 'Taipei Times') staff reporter Yang Ming-yi, discussed the transformation that the museum will undergo and how it plans to reposition itself following its closure on July 2 for a three-year renovation project
Liberty Times (LT): How will the National Museum of History reposition itself over the coming three years? Will it become a history museum, an art museum or something else?
Liao Hsin-tien (廖新田): When the National Museum of History was established, it was called the National Museum of Historical Artifacts and Fine Arts. It is actually an art museum by nature. In its first 30 years, the museum could be considered a window into the Republic of China's (ROC) culture on Taiwan. It used delicate artifacts to express the ROC's situation in Taiwan.
Now, because of the rise of museums, one museum after the other has taken over some of its roles — including the Taipei Fine Arts Museum, Taichung's National Taiwan Museum of Fine Arts, the Kaohsiung Museum of Fine Arts and the newly established Tainan Art Museum and Taoyuan Museum of Arts.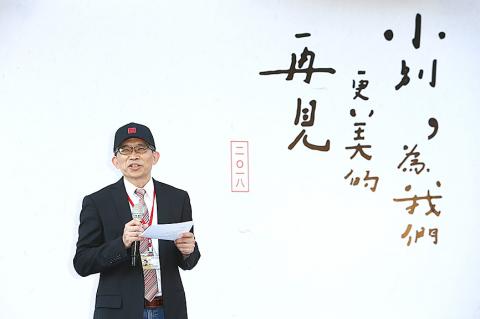 National Museum of History Director-General Liao Hsin-tien delivers a speech in Taipei on July 1.
Photo: Chen Yi-kuan, Taipei Times
As all of them have taken over part of the museum's artistic role, the National Museum of History will slowly position itself more as a national history museum.
However, there is a dilemma: Much of our collection consists of art. We want to exhibit that art in a way that showcases Taiwan's national history. This means the significance and meaning of the art will be reinterpreted. It will come to represent not only art, but also cultural history.
LT: As the museum's organization now stands, what is its strongest area of expertise?
Liao: About one-third of our 90 full-time employees were hired under the Act of Governing the Appointment of Educators (教育人員任用條例). To meet the needs of our five divisions — research, exhibition, collection, education and extension, and creativity and marketing — their specialties include cultural marketing, promotion of education, tools and objects, museum studies and art history.
I am not worried about the performance of our employees — they are all excellent.
We have just established a new division, the international academic innovation division, which will focus on "R&D&T." R stands for "research," D stands for "development" and T stands for "transformation." The results of the museum's research are to be handed to the exhibition, creativity and marketing, collection or other divisions for further research and development.
Museums now prosper in different locations and we have entered an age of competition among venues, so we have started preparing a reorganization of our Taiwanese art history and cultural and creative industry categories.
In a nutshell, the museum's exhibition spaces need to become thoughtful, centered on discourse, strategic and inspiring conversation — that is our intention.
In theory, there is the poetics of exhibitions and then there is the politics of exhibitions.
The poetics of an exhibition is the story it wants to tell on the surface. The politics of exhibitions is to portray the cultural diversity and cultural identity of Taiwan. An important part of the exhibitions is our various concerns about this land.
LT: How will the National Museum of History live up to its name? By changing its name or its position?
Liao: As for its name, because my job entails responsibility for the museum's overall strategy, I believe that if our name — the National Museum of History (國立歷史博物館) — was changed to the "museum of national history" (國家歷史博物館), it would better reflect its nature and its English name.
However, I must emphasize that the minister of culture and the Ministry of Culture are inventorying all of the museums in the nation with the aim of integrating them. We must respect the ministry's policies. So in terms of the museum's name, it would only be changed as part of the nation's overall cultural policy.
While the difference between a "national museum of history" and "museum of national history" is only one word, our goal is to work toward becoming a museum of national history. The ministry has considered [a name change], but the power to make that decision lies with the minister and ministry. We will continue to offer suggestions and talk with the ministry.
LT: How do you view the difference between the National Museum of History and the National Museum of Taiwan History? How will your museum differentiate itself from the one in Tainan? What would serve the best interests of the nation's culture?
Liao: The National Museum of Taiwan History is concerned with folklore. Since its beginning, it has been concerned with folk culture and the culture of everyday people. Our museum is concerned with more refined culture. Different collections determine each museum's inclinations.
We plan to work on responding to the National Museum of Taiwan History. It is in the south, while we are in the north. In terms of exhibitions, we want to use of our works to present Taiwan's culturally diverse history.
We want a museum that can truly represent Taiwan's national history in the capital, Taipei, as many guests, academics and members of the public want to see a museum on national history when they visit Taipei. In our permanent exhibition, we hope to present the development of our nation's history in a comprehensive manner. So our main exhibition space on the third floor will become very, very important.
LT: If the museum continues to use its current name, how will it handle the mission of being the national history museum of the Taiwanese?
Liao: I would call it the entire cultural manifestation of the Republic of China on Taiwan. We have used Taiwanese culture as the general structure to show the influence that Han culture, local culture, Southeast Asian culture, Austronesian languages and the West has had on Taiwanese art. Therefore, all of these aspects can be referred to as Taiwanese culture.
Taiwanese culture includes Han culture, Japanese culture, American culture and Austronesian languages. There are all kinds of different cultures and that is what is called "diversity."
My goal is not single out any individual culture. We collectively refer to this as diverse cultural development, or diversity of culture in Taiwan.
Of course, some cultures have had a tremendous impact on ours. For example, in Han culture, we speak Chinese; but this language has already been internalized as a local language.
For me, localization and modernization are more important than something like Han culture or other cultures.
Translated by staff writer Sherry Hsiao
Comments will be moderated. Keep comments relevant to the article. Remarks containing abusive and obscene language, personal attacks of any kind or promotion will be removed and the user banned. Final decision will be at the discretion of the Taipei Times.