KMT mayoral candidate says no to nuclear power
The nation should not be using nuclear power when it is incapable of handling its nuclear waste, Chinese Nationalist Party (KMT) New Taipei City mayoral candidate Hou You-yi (侯友宜) said yesterday.
Hou made the remarks during a visit to Rueifang District's (瑞芳) Jiufen (九份), a popular tourist town, to view the site where Taiwan Power Co (Taipower) wants to rebuild its coal and oil-fired Shenao Power Plant.
The original plant was demolished in 2011, but Taipower has revised its plan to build a coal-fired plant with two 600 megawatt units at the site.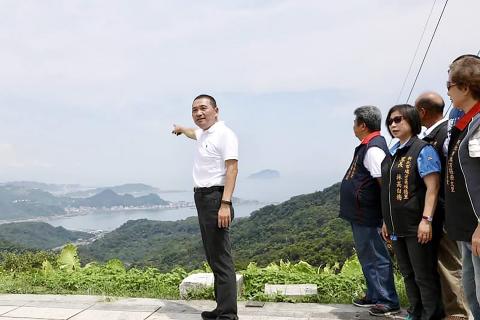 Chinese Nationalist Party (KMT) New Taipei City mayoral candidate Hou You-yi points toward Shenao Bay during a visit yesterday to Jiufen in New Taipei City's Rueifang District.
Photo: CNA
The public should work together to halt the project, Hou said, calling on President Tsai Ing-wen (蔡英文) to clarify her position on whether it should be built.
Instead of spending NT$100 billion (US$3.26 billion) on a coal plant that would affect public health, the government should encourage businesses to develop more "smart" energy-saving techniques, Hou said.
The original Shenao plant caused serious air pollution, as nearby residents often found the clothes on their outside clotheslines stained by ash, Songde Borough (頌德) Warden Lin Kao Pai-mei (林高白梅) said.
That tourists might stop coming to Jiufen if the plant was built, he said.
Hou also said the nation should not use nuclear power when it is unable to tackle nuclear waste, and his principle is: "No nuclear safety, no nuclear energy."
A call by his Democratic Progressive Party rival, former premier Su Tseng-chang (蘇貞昌), on Saturday to clarify his position on the mothballed Fourth Nuclear Power Plant was weird, given the plant has been mothballed for years and Taipower last month began transporting part of its unused fuel rods back to its US supplier, Hou said.
Hou questioned Su's own stance on nuclear energy, considering that he had approved increasing the fourth plant's construction budget in 2006 when he was premier.
The issue of nuclear energy heated up again last week after former president Ma Ying-jeou (馬英九) and former premier Jiang Yi-huah (江宜樺), both KMT members, on Tuesday called on the public to support two referendum questions seeking to reject Tsai's policy of decommissioning the three operating nuclear plants by 2025.
One would seek support for overriding the plan to scrap the fourth plant and the second would ask whether Article 95-1 of the Electricity Act (電業法), which covers phasing out nuclear plants by 2025, should be abolished.
The fourth plant — which was officially mothballed in 2015 — is in New Taipei City's Gongliao District (貢寮), while the Jinshan Nuclear Power Plant is in Shihmen District (石門) and the Guosheng Nuclear Power Plant is in Wanli District (萬里).
Comments will be moderated. Keep comments relevant to the article. Remarks containing abusive and obscene language, personal attacks of any kind or promotion will be removed and the user banned. Final decision will be at the discretion of the Taipei Times.