Kavalan exhibition highlights struggle
IDENTITY: The exhibition in Yilan showcases how the Kavalan began their battle to gain recognition in 1987 and how they attained their goal in 2002
The Institute of Yilan County History is holding a special exhibition of historical documents, manuscripts, photographs and books tracing the Kavalan people's struggle to gain official recognition.
The Kavalan began their struggle for recognition in 1987 and attained their goal in 2002, when the central government officially listed them as the 11th Aboriginal people of Taiwan, the institute said.
The word Kavalan, which means "flatland people," historically referred to many Aboriginal peoples — the Kavalan, the Turuboan, the Qauqaut and the Pazeh-speaking groups of the Pingpu peoples — in the region now known as the Yilan Plain, the institute said.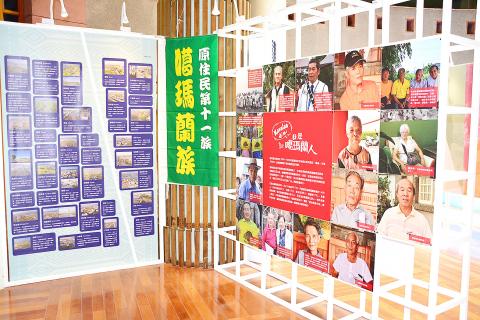 A special exhibition to commemorate the 30th anniversary of the Kavalan people's struggle to gain official recognition is pictured on Saturday at the Institute of Yilan County History.
Photo: Yu Ming-chin, Taipei Times
Since the 11th century, the Kavalan were the most numerous people on the Yilan Plain until they were displaced by Han colonists, who began migrating en masse to Taiwan in the mid-19th century, it said.
While some Kavalan Aborigines migrated within the Yilan region and became Sinicized, others traveled by boat and settled further afield in Hualien and Taitung, it said.
Using Han-centric colonial classification, successive regimes in Taiwan referred to the Kavalan as shengfan (生番), huafan (化番), shanhoushenhfan (山後生番), shoufan (熟番) and Pingpu, it said.
After World War II, the then-Chinese Nationalist Party (KMT) government continued the use of those colonial categories by classifying Taiwanese Aborigines into nine state-recognized "tribes" — designated as plains or highland dwellers — which excluded the Pingpu peoples, such as the Kavalan, it said.
The special exhibition is a narration of the history of the Kavalan and their struggle for identity and recognition through archival materials, it said.
People visiting the exhibition and landmarks near the archeological site of the Kavalan settlement in Yilan County can post selfies on the institute's Facebook page in exchange for an owl keychain made of banana tree fiber, it said.
Owls are a good omen in Kavalan mythology, the institute said.
The exhibition ends on Aug. 30.
Comments will be moderated. Keep comments relevant to the article. Remarks containing abusive and obscene language, personal attacks of any kind or promotion will be removed and the user banned. Final decision will be at the discretion of the Taipei Times.