DPP ahead in Kaohsiung mayor poll
Democratic Progressive Party (DPP) Kaohsiung mayoral candidate Chen Chi-mai (陳其邁) beat his opponent, Chinese Nationalist Party (KMT) candidate Han Kuo-yu (韓國瑜), by 18.4 percentage points in a Great Society Research Center poll.
Chen's support rate was 45.7 percent, while Han's was 27.3 percent, the results showed.
Chen beat Han in all age groups, receiving 42.4 percent support over Han's 22 percent from voters aged 20 to 29, and 53 percent support over Han's 24.5 percent from those aged 30 to 39.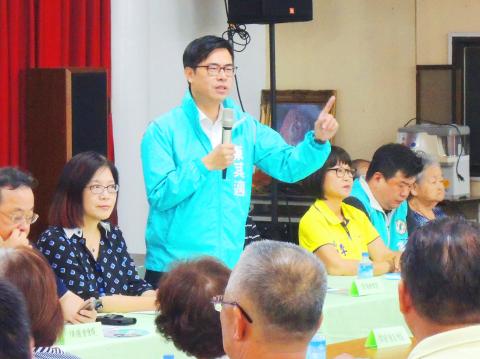 The Democratic Progressive Party's Kaohsiung mayoral election candidate Chen Chi-mai speaks at a campaign event in Kaohsiung on Sunday.
Photo: Wang Jung-hsiang, Taipei Times
In the 40 to 49, 50 to 59 and 60 to 69 age groups, Chen received 41.6 percent, 42.6 percent and 48 percent of the votes respectively, while Han received 32.4 percent, 38.6 percent and 21.4 percent.
Chen's support rate was 88.5 percent among DPP supporters, 76.3 percent among New Power Party supporters and 81.2 percent among Taiwan Solidarity Union supporters, the results showed.
The evident support of pan-green camp supporters should give Chen an advantage in Kaohsiung, where the pan-green support base is greater than the pan-blue support base, the poll said.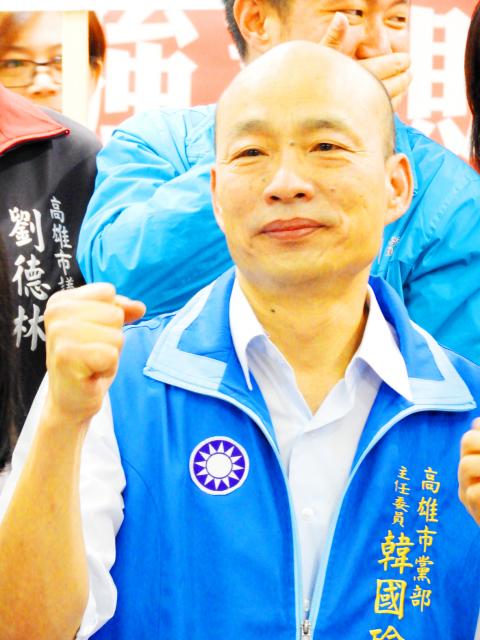 Chinese Nationalist Party (KMT) Kaohsiung mayoral candidate Han Kuo-yu is pictured at a campaign event in Kaohsiung yesterday.
Photo: Ke Yu-hao, Taipei Times
While Han is supported by 77 percent of KMT supporters, he does not seem to have gained support from other pan-blue camp parties, it said.
Among neutral respondents, Chen had a support rating of 29.3 percent, while Han had a support rating of 23.7 percent.
About 60.8 percent of respondents said that Chen has a greater chance of being elected Kaohsiung mayor, while 17.5 percent said Han has a favorable chance of being elected, the poll showed.
About 21.7 percent of respondents declined to comment on the issue.
The center's poll analysis division said that despite staunch online support, Han's multiple misstatements since his candidacy was announced are the main reason for his low popularity.
Han in May said that the municipality has become "old and ugly" — referring to the aging population — over the past 20 years of DPP governance.
He also said that the municipality was in an economic decline, with only select businesses, such as pawnshops and mortuary services, not being affected.
The poll was conducted via telephone on Wednesday and Thursday and targeted municipal residents over the age of 20.
The poll received 1,317 valid responses and has a confidence level of 95 percent. It had a margin of error of 2.7 percentage points.
Comments will be moderated. Keep comments relevant to the article. Remarks containing abusive and obscene language, personal attacks of any kind or promotion will be removed and the user banned. Final decision will be at the discretion of the Taipei Times.