Tainan, premier culpable in woman's suicide: KMT
The Chinese Nationalist Party (KMT) legislative caucus yesterday blasted the Tainan City Government for an underground railway project, which it said led to a local woman's suicide.
The woman, surnamed Tseng (曾), 65, was hospitalized after she was found to have swallowed a cocktail of detergents on Friday last week. She died in hospital.
The woman's daughter told reporters that her mother had been emotionally unstable because she was worried that her property might be expropriated to make way for a project to move the city's railway underground.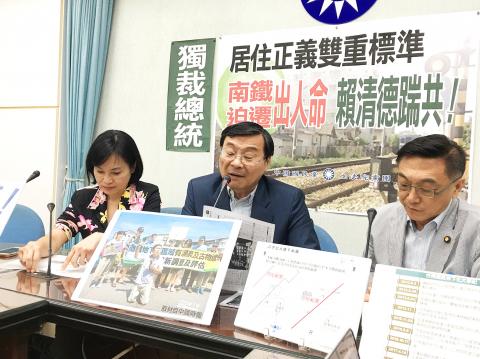 Chinese Nationalist Party (KMT) legislative caucus secretary-general William Tseng, center, speaks at a news conference in Taipei yesterday as KMT legislator Ko Chih-en, left, and Land Justice League director Chen Chih-hsiao listen.
Photo: Lin Liang-sheng, Taipei Times
KMT caucus deputy secretary-general William Tseng (曾銘宗) told a news conference in Taipei that the project was approved during Premier William Lai's (賴清德) term as Tainan mayor, blaming the woman's death on Lai's handling of the project.
The woman's home is part of a complex where several buildings have been torn down to make way for the project, and the integrity of her home could have been compromised, William Tseng said.
He compared the incident to the Miaoli County Government's demolition of four houses in Dapu Borough (大埔) in 2013, after which one of the property owners committed suicide, sparking public outrage.
The Tainan City Government rejected the testimony of the dead woman's daughter and said that her death was irrelevant to the project, which is irresponsible and indifferent, William Tseng said.
The Democratic Progressive Party (DPP) is always talking about promoting "land justice" and should match its words with actions, he said.
The DPP should not apply double standards on land justice, KMT Legislator Ko Chih-en (柯志恩) said.
She underlined controversial land expropriations in Pingtung County in connection with an urban renewal project, which met with fierce protests in Taipei this week.
Land justice in the eyes of the DPP only applies to projects that have star activists from the Taiwan Rural Front and well-known documentary directors on site, but not to the Tainan and Pingtung projects, which are lesser known, Ko said.
KMT Legislator Arthur Chen (陳宜民) said that the DPP should heed the slogan it coined at the time of the Dapu incident: "The government tore down the houses in Dapu today. We will tear down the government tomorrow," saying that it might come true.
Comments will be moderated. Keep comments relevant to the article. Remarks containing abusive and obscene language, personal attacks of any kind or promotion will be removed and the user banned. Final decision will be at the discretion of the Taipei Times.