Taiwan's oldest mummy
In 1879, a holy man named Ke Hsiang (柯象) in what is now Yunlin County announced to his followers his imminent demise and attainment of nirvana, then turned his temple into a smoke house, forbade anyone to enter and bolted its doors from within.
More than two centuries later, Ke's preserved corpse — still in a crossed-legged meditation posture — is the nation's oldest mummy and is housed in National Taiwan Museum's collection in Taipei.
It is also an object of veneration in the county's Beiji Temple, whose tradition says that Ke was a physician from Tukuzai (土庫仔) in today's Dapi Township (大埤), the Chinese-language online media outlet Now News reported on Sunday.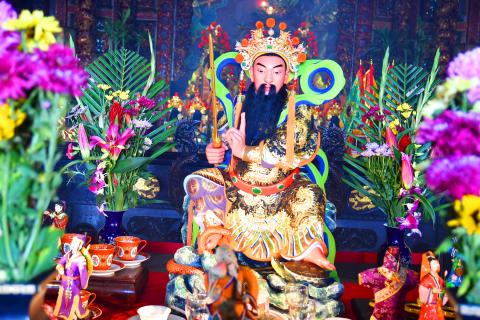 An idol of the Taoist deity Xuantian Shangdi with the features of Taiwanese holy man Ke Hsiang is pictured after being enshrined in the Beiji Temple in Yunlin County's Dapi Township on Jan. 13.
Photo: Huang Shu-li, Taipei Times
While traveling in Tainan in 1871, Ke ran into a burning house to rescue its inhabitants, but once inside, he only found an idol of the Taoist deity Xuantian Shangdi (玄天上帝, "Emperor of the Mysterious Heaven"), which he saved from the fire, the report said.
That night while asleep, Ke had a divine vision in which Xuantian Shangdi thanked him for his bravery and offered him the choice of two rewards: He could live in prosperity and glory for the remainder of his life, or he could be worshiped after his death for 10,000 generations, it said.
Ke that morning brought the statue to Tukuzai and built a temple to venerate the god until his death, it said.
Ninety-nine days after Ke's demise, the Qing Dynasty county magistrate, who had dismissed Ke as a country charlatan, sent officials to enter the temple, but discovered Ke's corpse "free of corruption," which bolstered local beliefs about his divinity, the report said.
In 1912, local man Huang Chao (黃朝) plotted to rise up against Japanese colonial authorities after claiming that Ke had, via oracles, urged him to resist.
Japanese police quelled the uprising before it began and put Ke's mummy in an evidence lockup, where it remained for 80 years, the museum said.
The resultant crackdown, which included Huang's execution and the jailing of his coconspirators, is known as the Tuku Incident (土庫事件).
After the end of World War II, worshipers tried to locate Ke's mummy — even going so far as searching for it at shrines throughout Japan — before discovering that the museum had kept it since its rediscovery, Now News said.
The museum in 2012 loaned the mummy to the temple. It was transported to the site under guard and with great fanfare, then returned to the museum in 2014.
The temple in January unveiled a new gilded joss paper statute of Ke Hsiang. Temple managers said they still hope that the mummy would be returned to the temple.
Comments will be moderated. Keep comments relevant to the article. Remarks containing abusive and obscene language, personal attacks of any kind or promotion will be removed and the user banned. Final decision will be at the discretion of the Taipei Times.