'Secrets in the Hot Spring' draws praise
The Taiwanese horror comedy film Secrets in the Hot Spring (切小金家的旅館) on Sunday drew interest from South Korean producer Lee Dong-ha at its overseas premiere at the Bucheon International Fantastic Film Festival in South Korea.
The 109-minute film, released in Taipei on Thursday last week, was selected for screening in the "World Fantastic Blue" category of the festival.
Among those in the sold-out theater was Lee, who produced the 2016 South Korean zombie apocalypse action thriller Train to Busan, which drew more than 11 million moviegoers in South Korea, according to Warner Bros Entertainment, which is distributing Secrets in the Hot Spring.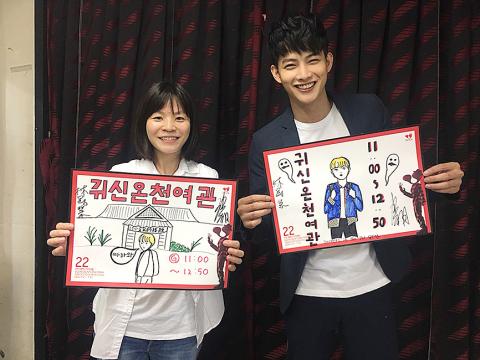 Director Zoe Lin, left, and lead actor Zhang Ting-hu of Secrets in the Hot Spring hold placards when interacting with fans on Sunday in Bucheon, South Korea.
Photo: CNA
At a workshop after the screening that was led by Secrets director Zoe Lin (林冠慧) and lead actor Zhang Ting-hu (張庭瑚), Lee and Lin exchanged filmmaking experiences.
During their conversation, Lee heaped praise on Lin's work, Warner Bros said in a statement.
Secrets at its heart is a comedy that has scary elements to create an environment that is both fun and frightening, Lee said.
Lin said she was worried that the South Korean audience might not pick up on some of the Taiwanese humor until she heard waves of laughter during the premiere, but they certainly reacted to the scary parts.
"Some people actually jumped at the ghost scene," Lin said.
Secrets in the Hot Spring follows Chieh Hsiao-ching (切小金) and his friends as they explore his family's seemingly haunted hot spring hotel and discover that Chieh's grandparents are hiding something.
The film in its first week grossed more than NT$3.04 million (US$99,405) in Taipei and NT$9.11 million nationwide, and is likely to exceed NT$10 million, Warner Bros said.
Inaugurated in 1997, the festival focuses on South Korean and international horror, thriller, mystery and fantasy films, with a particular focus on cinema from East and Southeast Asia.
Comments will be moderated. Keep comments relevant to the article. Remarks containing abusive and obscene language, personal attacks of any kind or promotion will be removed and the user banned. Final decision will be at the discretion of the Taipei Times.