NPP lawmaker proposes duty-free police vehicles
New Power Party Legislator Hsu Yung-ming (徐永明) yesterday proposed amending the Customs Act (關稅法) to allow duty-free imports of police cars to promote police safety.
The number of officers injured in vehicle accidents rose from 12 in 2011 to 118 last year, Hsu told a news conference at the party's office in Taipei yesterday.
Given the growing number of casualties and the central government's willingness to increase police departments' budgets next year, police units should purchase cars with more advanced safety features, he said.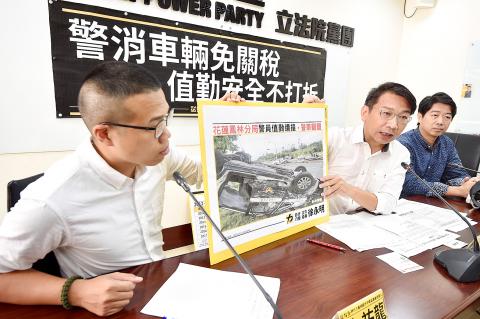 New Power Party Legislator Hsu Yung-ming, center, yesterday holds a news conference at the Legislative Yuan, calling on the government to exempt imported police vehicles from customs duties.
Photo: Peter Lo, Taipei Times
While the military and Fire Department are allowed to import vehicles tax-free, there is a 17.5 percent duty on police vehicles, making it unaffordable for many local police departments, Hsu said.
"Without customs duty, the price of a BMW 250d, which can be used as a highway patrol car, would drop from NT$1.47 million [US$48,068] to NT$1.2 million, while a BMW 318i would cost NT$970,000 instead of NT$1.18 million," he said.
Car blogger Ponde (龐德) agreed that some imported cars have more superior safety features than domestic cars.
For example, some German cars have not only one airbag at the driver's seat, but several of different sizes which are activated depending on the driver's weight and the speed of the crash to provide maximum protection, the blogger said.
"If the law could be amended to make foreign cars more affordable, a NT$970,000 car would definitely provide much more protection for police officers," he added.
Customs Administration Director Hsieh Ling-yuan (謝鈴媛) said that his agency would carefully study the proposal and discuss it with the Ministry of the Interior.
National Police Agency (NPA) Deputy Director-General Liu Po-liang (劉柏良) said that any advice that would benefit police officers would be carefully considered and supported by his agency.
The NPA will continue to work on improving officers' safety on the job, Liu added.
Comments will be moderated. Keep comments relevant to the article. Remarks containing abusive and obscene language, personal attacks of any kind or promotion will be removed and the user banned. Final decision will be at the discretion of the Taipei Times.