School's classes are a cultural first
Taipei's Beitou Elementary School has become the first school in the nation to teach liamkua (唸歌) — a traditional Taiwanese form of performance art that interweaves talking and singing — as part of its Hoklo (commonly known as Taiwanese) language curriculum.
The school has hired liamkua singers, and is offering a class teaching the moon guitar (yueqin, 月琴) — a lute with an oval sound box commonly used in traditional Chinese operas.
On Friday, it invited liamkua performer Yang Hsiu-ching (楊秀卿) to sing with students and give them pointers.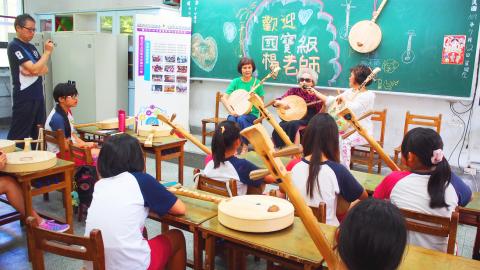 Liamkua performer Yang Hsiu-ching, wearing a red shirt, performs at Taipei's Beitou Elementary School on Friday.
Photo: Tsai Ya-hua, Taipei Times
Speaking at the school, Yang said she hopes more emphasis will be placed on the preservation of liamkua, adding that it is an important part of the nation's culture.
In 2009, Yang became the first person appointed by the Executive Yuan's Council for Cultural Affairs to help preserve the sung and spoken arts, and was recognized for her one-woman performances in which she plays various roles in different voices.
Yang, 80, who was blinded at the age of four due to an illness, said she started performing liamkua after her father said he hoped that she could develop a skill that would make her self-reliant.
She regrets that young people today are not familiar with liamkua and that many are unable to even speak Hoklo, Yang said, adding that she was once performing outside a department store and tried to speak in Hoklo to a child playing nearby, who said: "Speak Mandarin, I don't understand Taiwanese."
She hopes schools can teach children about traditional culture from a young age, so that they can better understand their heritage and the popular customs of their ancestors, Yang said.
Beitou Elementary School principal Weng Shih-meng (翁世盟) said the school serves an important role by promoting the yueqin.
The school started a yueqin community two years ago as part of its localization curriculum, he said, adding that the program shows students how the instrument is connected with Hoklo literature and the nation's music.
The school has purchased 30 yueqin that it provides to students for use in class twice a week, he said.
The mother of fourth-grade student Lee Tzu-ying (李姿瑩) said she encouraged her daughter to start learning the instrument in grade three, as it would enable her to speak Hoklo more fluently and learn a new instrument.
Another student who is graduating this year, surnamed Chu (朱), said she decided to learn the yueqin after her mother told her it was a part of a culture that was being lost, adding that she found the use of a pick in playing the instrument to be interesting.
Wang Jui-wen (王瑞文), a teacher at the school, said he also asked Yang to teach him to play the instrument with the hopes of passing it on to future generations.
The school said it plans to continue its yueqin lessons over the summer break.
Comments will be moderated. Keep comments relevant to the article. Remarks containing abusive and obscene language, personal attacks of any kind or promotion will be removed and the user banned. Final decision will be at the discretion of the Taipei Times.