Spaces available for Hualien sea burial next week
The Hualien County Government is to conduct an "eco-friendly sea burial" on Saturday next week, Hualien Director of Civil Affairs Hsiao Ming-chia (蕭明甲) said, adding that seven families have already applied for the ceremony.
A boat is to convey the mourners and Hualien City Morgue workers to a point 6km from the Port of Hualien and deposit the cremated remains of the deceased in water-soluble urns, he said.
The families are to place the urns in the sea and sprinkle flower petals over the waves, he said.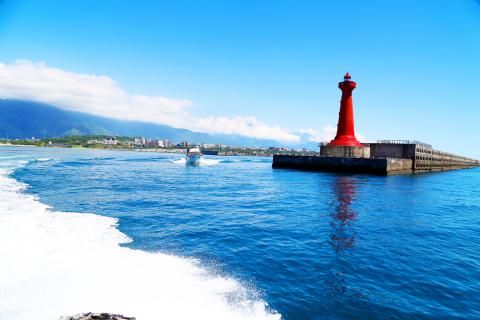 A boat, left, carries mourners and the cremated remains of a deceased person to sea outside Hualien Harbor for a sea burial on Wednesday.
Photo: CNA
The urns are made of non-toxic, dissolvable materials and the burial site's coordinates are to be registered for future commemorations by the families.
Last year, dolphins and whales followed the funeral boat and were a source of comfort for the mourners, who felt that the sea creatures were keeping the spirits of the dead company, he said.
The county would perform burials free of charge for any deceased Hualien resident or their deceased relatives, as long as they file an application before Monday, Hsiao added.
Taiwan has a large population, but little available land, and the public is aware of environmental concerns, which has led to wider acceptance of natural burials at sea or under trees, he said.
The county also has two tree burial sites, Huaien Yuan (懷恩園) in Jian Township (吉安) and the Fonglin Township First Public Cemetery, which have together seen 616 tree burials since their respective establishment in 2016 and 2012, he said.
Comments will be moderated. Keep comments relevant to the article. Remarks containing abusive and obscene language, personal attacks of any kind or promotion will be removed and the user banned. Final decision will be at the discretion of the Taipei Times.