Taiwan donates ¥20m to Japan for flood efforts
The government on Thursday donated ¥20 million (US$177,620) to Japan in the wake of heavy rainfall, flooding and landslides that have claimed at least 200 lives.
Taiwan made the donation to demonstrate its concern and to assist with the rebuilding of flooded areas, Representative to Japan Frank Hsieh (謝長廷) said.
Hsieh gave details of the donation to Japan-Taiwan Exchange Association President Yasuaki Tanizaki in Tokyo, saying that he hoped the victims would be able to resume their lives and the flooded areas would return to normal as soon as possible.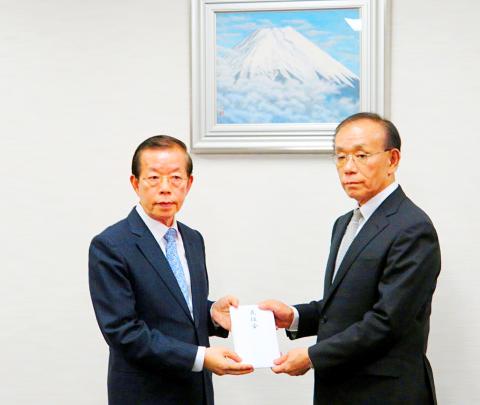 Representative to Japan Frank Hsieh, left, and Japan-Taiwan Exchange Association President Yasuaki Tanizaki pose for photographs in Tokyo on Thursday, during a ceremony to present Taiwan's disaster relief donation to Japan.
Photo: CNA
Taiwan and Japan are prone to natural disasters, and each side extends a helping hand when the other needs assistance, he said.
This friendly relationship has created a "virtuous cycle," Hsieh said, adding that interpersonal relations are as good as they could possibly be.
Just as Taiwan was moved to action by the suffering of Japanese flood victims, Japan was quick to help after earthquakes struck in Hualien and Tainan, and after gas explosions in Kaohsiung, he said.
Japan is deeply grateful for President Tsai Ing-wen's (蔡英文) tweets of concern in Japanese, Tanizaki said, adding that Japanese Prime Minister Shinzo Abe replied in Chinese, saying that he is thankful for the sincere condolences and prompt assistance from many Taiwanese.
Japan would always remember Taiwan's support in the aftermath of the 2011 Tohoku earthquake and tsunami, the 2016 earthquake in Kumamoto and last year's flooding in northern Kyushu, he added.
The donation is to be given to the Japanese Red Cross Society for disaster relief, Tanizaki said.
Taiwan would be happy to help try and boost tourism in disaster-hit areas after humanitarian relief work concludes, Hsieh added.
Comments will be moderated. Keep comments relevant to the article. Remarks containing abusive and obscene language, personal attacks of any kind or promotion will be removed and the user banned. Final decision will be at the discretion of the Taipei Times.