New York community's switch from ROC to Chinese flag not a trend, officials say
DEMOGRAPHY ISSUE: The nation's office in the city was 'not surprised' that the association changed its policy, as its members had become mostly Chinese, an official said
Following reports that New York City's Soo Yuen Benevolent Association is to start flying the People's Republic of China (PRC) flag next month, Taiwanese officials yesterday said that support for Taiwan among "overseas compatriots" in the US remains strong.
The association, an affiliate of the Chinese Consolidated Benevolent Association (CCBA), has flown the Republic of China (ROC) flag since the association was founded in 1928.
US-based Chinese-language newspaper World Journal (世界日報) on Wednesday reported that the kinship group's membership had voted to take down the ROC flag and start flying the PRC flag from Aug. 19, the association's 90th anniversary.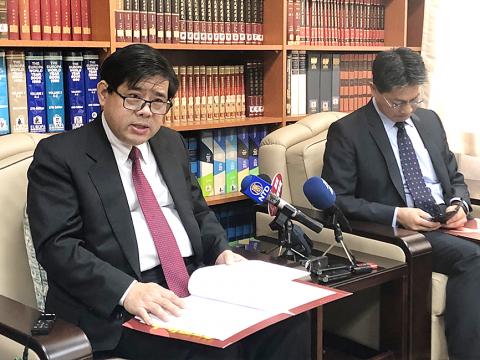 Ministry of Foreign Affairs Department of North American Affairs Director-General Remus Chen, left, speaks at a news conference in Taipei yesterday.
Photo: Lu Yi-hsuan, Taipei Times
The Taipei Economic and Cultural Office in New York had been following the situation for some time and was not surprised to hear the news, Ministry of Foreign Affairs Department of North American Affairs Director-General Remus Chen (陳立國) told a news conference in Taipei yesterday.
Over the past few years, Chinese immigrants have flocked to the association, causing its identity to change from Taiwanese-American to Chinese-American, the Overseas Community Affairs Council said in a statement on Wednesday.
The CCBA of New York City remains strongly committed to Taiwan and flies the ROC flag at its headquarters, as does the majority of its 60 affiliates in the city, the council said.
Most compatriot groups in the US, including the CCBA of Washington, Chicago and Los Angeles, and the Hop Sing Tong (合勝堂), are either expected to send delegations to Taiwan this year or have already done so, the council said.
"The On Leong Chinese Merchants Association's decision to hold its 97th anniversary general meeting in Taiwan is another indication of the overseas compatriot community's firm support for the ROC," the council said.
Support for Taiwan in the Chinese-American community has been weakened by arrivals from China and Beijing's "united front" strategy, officials said.
However, many second-generation Chinese-Americans have studied Chinese language in Taiwan or visited it, or developed identification with the nation due to the work of pro-Taiwan compatriot organizations and the enduring appeal of democratic values, they said.
President Tsai Ing-wen's (蔡英文) policy remains unchanged: to support or serve all compatriot associations in the US that support a free and democratic ROC, regardless of their age, ministry and council officials said.
"This incident with the [Chinese] five-starred flag does not change the government's position and we remain committed to show our determination to protect freedom, democracy and peace to the international community," they said.
Comments will be moderated. Keep comments relevant to the article. Remarks containing abusive and obscene language, personal attacks of any kind or promotion will be removed and the user banned. Final decision will be at the discretion of the Taipei Times.