Foreigners praise Taiwan after leadership seminar
'I LOVE TAIWAN': The International Elite Leadership Seminar introduced students to Taiwanese culture and history, which made a lasting impression, some said
The Ministry of Foreign Affairs' International Elite Leadership Seminar concluded on Tuesday amid praise from its international participants.
During an event-packed, 10-day itinerary, the program introduced participants to Taiwan's diplomatic policies, cross-strait relations, ecological conservation work and international humanitarian aid efforts, the ministry said.
Foreign students participated in cultural events, such as calligraphy lessons, taichi practice and traditional pastry-making classes, the ministry said.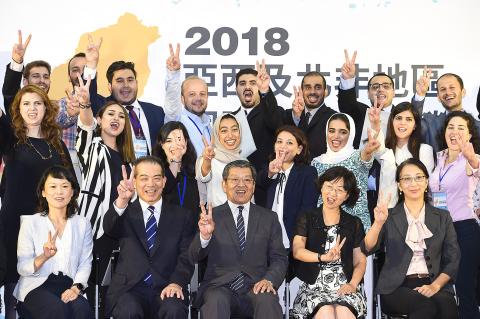 Participants in the Ministry of Foreign Affairs's International Elite Leadership Seminar do the "V" sign as they pose for a group photograph on Tuesday, the closing day of the seminar.
Photo: George Tsorng, Taipei Times
The ministry also arranged for the students to visit the National Palace Museum, the Chiang Kai-shek Memorial Hall, the Taiwan Excellence exhibition center, Taroko National Park, the Hualien County Indigenous Museum and the National Center for Traditional Arts in Yilan County.
Speaking in Mandarin, program participant representative Eimen Hamrouni said at the closing ceremony that the experience and knowledge he gained about Taiwanese culture and history will "forever be remembered."
"I love Taiwan. Hurrah for free Taiwan," Hamrouni said before concluding his speech.
His experiences made a great impression on him, and although he is not fluent in Mandarin, he felt that delivering his speech in the language would best show his respect for the country, Hamrouni said.
He completed his first draft in English and asked one of the six helpers assigned to the students by the ministry to help translate it and teach him the proper pronunciation and intonations, he said, adding that he spent five days preparing the speech.
Taiwan faces many challenges, such as natural disasters and its plight in international politics, Hamrouni said.
Taiwanese are friendly, hard-working, modest and honest, Hamrouni said, adding: "These are very rare qualities."
Another student from Jordan said he was amazed at the order and cleanliness of Taiwan Taoyuan International Airport, adding that the nation's natural scenery and delicious food are "simply delightful."
Holding up a photograph of a team of Taiwanese medical volunteers helping in Iraq, an Iraqi student offered thanks to Taiwan.
The students also acted out a short play to share with others their experiences in Taiwan.
The participants came from Saudi Arabia, the United Arab Emirates, Turkey, Jordan, Oman, Kuwait, Bahrain, Qatar, Iraq and Egypt.
Comments will be moderated. Keep comments relevant to the article. Remarks containing abusive and obscene language, personal attacks of any kind or promotion will be removed and the user banned. Final decision will be at the discretion of the Taipei Times.