Taiwan winning World Cup, but not on the pitch
Taiwan might not have qualified for this year's FIFA World Cup taking place in Russia, but the nation frequently has a presence at high-profile international soccer tournaments thanks to kits made from yarn Taiwan produces using recycled polyethylene terephthalate (PET) bottles.
At least half of the 32 national teams attending the World Cup use the environmentally friendly kit, including England and Belgium, who have made it to the semi-finals, the Environmental Protection Administration said.
Teams wearing kit made by Adidas — Belgium, Argentina, Colombia, Egypt, Germany, Iran, Japan, Mexico, Morocco, Sweden, Spain and Russia — as well as those wearing kit made by Nike — England, Brazil, Portugal and Saudi Arabia — are all wearing shirts made using Taiwanese technology, the agency said.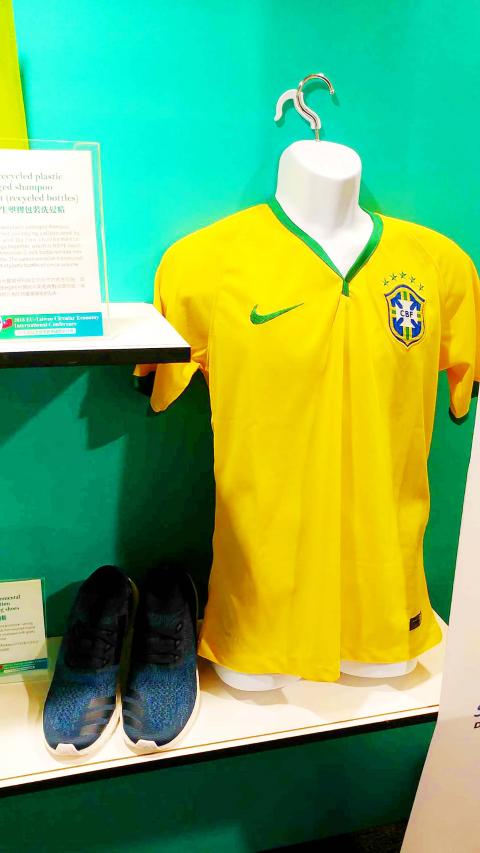 A Brazil soccer shirt made from recycled polyethylene terephthalate bottles using technology developed in Taiwan is displayed at European Innovation Week in Taipei in an undated photograph.
Photo: CNA
Taiwanese businesses that produce yarn from recycled PET bottles supply the material for the kits worn by at least 16 national teams, Environmental Protection Administration official Lee Shou-chien (李守謙) said.
The four Nike-sponsored teams all wear kits made in Taiwan, Lee added.
In 2014, when the previous World Cup took place in Brazil, there were many media reports highlighting the environmentally friendly made-in-Taiwan kits worn by 10 of the national teams.
The textiles helped the nation "win the World Cup," not on the pitch, but in the dressing room, the reports said.
In a Facebook post yesterday, the British Trade and Cultural Office in Taipei expressed its gratiude for Taiwan's textile techniques that allow sweat to be dispersed more quickly on the shirts that England wear.
On Saturday, England beat Sweden to reach their first World Cup semi-final since 1990.
Comments will be moderated. Keep comments relevant to the article. Remarks containing abusive and obscene language, personal attacks of any kind or promotion will be removed and the user banned. Final decision will be at the discretion of the Taipei Times.